One of the first
responses of P&C insurers to combat the pandemic-challenges
was enabling remote operations which drove the adoption of video-based services. Moreover, in order to keep the business aligned to the strategic directives, leaders established a higher frequency of communication with stakeholders at the top of the pyramid. Other survival strategies include collaborations with national governments to manage risk, and introducing new product portfolios that fit both contextually and financially in the pandemic-landscape.
A number of trends in the insurance industry are here to stay. Analysts concur on the fact that now is the best time for insurers to move away from pen-and-paper, and build a strong digital presence, backed by innovative pricing models, and a highly efficient, and cost-effective operating model to drive day-to-day business. Here are some trends for P&C insurers to watch out for in 2021.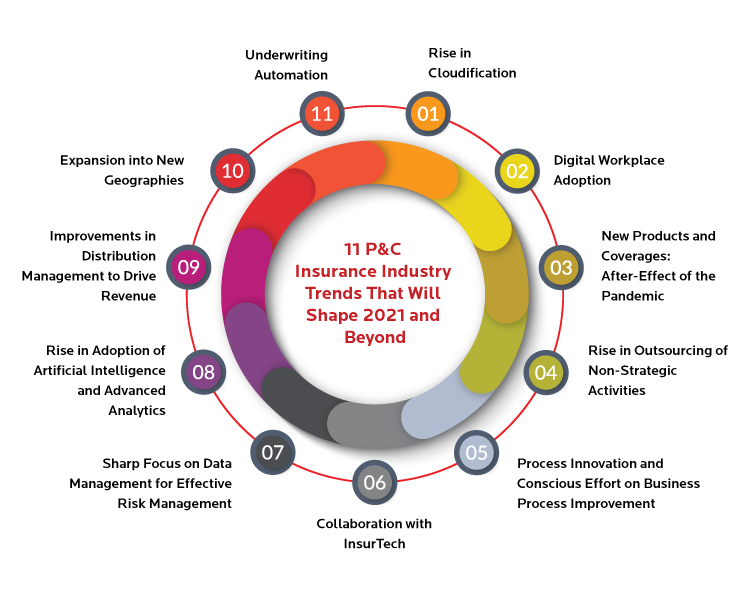 1. Rise in Cloudification
As telecommuting is likely to stay due to travel restrictions and cost benefits, adoption of video-based technologies will no longer be enough. In the insurance industry,
cloud
can reduce IT costs by 30-40%, enable seamless remote collaboration to orchestrate enterprise operations, reduce IT incidents by over 70%, and reduce the time to market - which is the ask of over 71% CEOs today. Given that the deployment of public and private-cloud backed operations is shortening to a matter of weeks, cloud-maturity across the P&C industry is likely to rise, and fast.
Stay Ahead
Visit our Insurance page
2. Digital Workplace Adoption
In 2020, almost all insurance operations that require in-person collaboration and/or travel stood in a deadlock at the onset of the first lockdowns. While the shock of the pandemic on operations was absorbed by temporary digital measures, the game is bound to change in 2021.
According to Gartner
, real-time workplace collaboration tools are likely to displace email in over 70% teams. In the 2021 P&C enterprise, the
underwriter will see what the loss control inspector does via AR/VR
, and the adjuster and the claimant will no longer engage in a hunt for the obvious information already available to the enterprise.
3. New Products and Coverages: After-Effect of the Pandemic
As the extended economic and financial ecosystem evolves, yesterday's products will no longer fit the new growth equation. As a result, the 2021 P&C industry will see a
greater degree of synergy with InsurTechs
to differentiate their offerings with context-aware products (see #6). Tailoring coverages to the user's needs is likely to bring new value-propositions to the customer and to the business simultaneously. Pay-as-you-drive and pay-how-you-drive products in the auto insurance sector is one such example. However, these products will be ultimately driven by intuitive and touchless and conversational digital journeys, backed by data-driven customer support processes aimed at minimizing costs while targeting customer-focused continual improvements.
4. Rise in Outsourcing of Non-Strategic Activities
While some insurers already outsource their back-office and customer service processes to bring greater efficiency, outsourcing will become critical to building an innovation-driven insurance enterprise in 2021. While insurers will focus on cost-take outs from non-strategic activities to free up funds for fueling innovation, outsourcing partners will bring greater transparency, dynamic scalability and responsiveness to the table while boosting satisfaction rates for stakeholders and customers. Real-time view of tasks in pipeline and experience levels and a digital-first approach to back-office processes is helping BPO partners bring greater value back to their clients - as a result, the industry will see enhanced benefits from outsourcing, and building a competitive edge going forward.