However,
automation in the insurance industry
has been slow, incremental, and often failed to meet customer's expectations. To succeed in this experience economy and get an edge over your competitors, it is essential to identify the monotonous, high-volume, and non-value-adding processes that consume a larger share of your time and effort and automate them through Robotic Process Automation (RPA), Artificial Intelligence (AI), and Machine Learning (ML). The insurers can utilize this time and energy to move employees up the value chain, focusing more on strengthening ties with the stakeholders, delivering a better experience to customers, and innovating new products. Therefore, leveraging a well-strategized RPA initiative, insurance companies can revolutionize business operations.
Current Trends and Emerging Areas of Automation In Insurance Industry
Most of the insuring companies are on their way to embrace
intelligent automation
. As customers are looking for superior claims processes, smart communication, and experienced sales-people, insurance companies are gearing up to stitch a digital story with RPA and AI to stay relevant in the overly competitive times. Following are the
emerging areas of automation
in insurance:
Cognitive Automation
Insurance is an information-intensive industry. RPA, Cognitive, and AI solutions bring order to information processing by redefining operations. Solutions are deployed focused on claims processing, new business and underwriting, rapid customer onboarding, rules-based processes, and reinventing customer journeys while taking care of operational costs
Data Ingestion Automation
The industry is shifting from experimenting with data automation to embedding it into their system to drive business decisions better. Particularly in the information-intensive insurance sector, it is crucial to have enriching data and analytics models to create business opportunities, measure risk and improve sales.
Stay Ahead
Visit our Insurance page
Operating Model for Enterprise Process
More insurers are now switching to
agile methods of operations
as they are adapting to changes rapidly. Traditional operating models that worked for relatively stable environments are fast becoming irrelevant. Agile organizations are faster, leaner, and scalable and ensure the effective functioning of the system. Therefore, these organizations show superior health, operational and financial results.
Citizen-led Development
AI and RPA are opening new doors for teams outside the IT industry and enabling both the application leaders and business leaders to join forces over
application development projects
to optimize business innovation and productivity.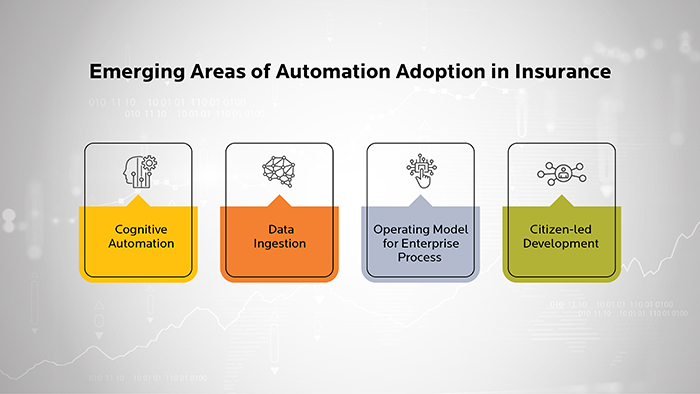 Drivers For Automation In The Insurance Industry
The current trends and emerging areas of automation in the insurance industry are amplified through the following
key drivers
that are enabling a seamless digital shift in the insurance industry:
Cloud-Based Integrations are mainstream. Limitations on traveling and the need to implement cost-effective solutions have expedited the process of using the cloud to enable swift remote collaborations and magnify enterprise operations at a 30-40% reduced cost.
Unprecedented times call for smart digital measures, and digital workplace adoption is the need of the hour. At a time when more information exchange happens via the internet, this would encourage real-time customer engagement.
Due to a complete situation overhaul, old won't serve us well. New products and coverages tailored to the current customer needs would serve better.
When boosting innovation and enhancing customer experience are the focus areas, insurers consider outsourcing non-strategic activities to free up time and money.
As IoT and AI technology are slowly replacing the traditional First Notice of Loss (FNOL) process, insurance companies focus on process innovation and conscious effort of business process improvement aiming to develop improved accident detection and reach out to their customers on time.
The rise of insurtech firms is acting as a cushion for the evolving market. Insurers are focusing on digital-first initiatives, and the collaboration with insurtech firms helps develop fresh risk management strategies in the quickest time possible.
Data is the surefire way to define strategic outcomes, and it is imperative to the insurance business. Leveraging data for effective risk management gives a clear view of the customer expectations and market projections to build the road ahead.
Augmented underwriting, touchless claims, and smart self-service portals have been some of the prominent AI innovations pushing the industry globally to walk the path of automation.
According to a May 2020 survey, remote customer relationship building was a challenge for over 50% of insurers. To cater to a remote-only distribution, insurers revisited their channels, leverage digital portals, and resorted to remote only distribution workforce. This induced effective distribution management to drive revenue.
Insurance firms are not limited to a certain place and have an expanding territory to serve. Cross-cultural agile work environments, expansion, integrated insurance offerings, investing in top insurtech firms are some of the aggressive steps insurers are adopting while discovering new geographies.
To reduce the underwriting time and boost sales volume, insurers are leveraging AI and RPA for insurance underwriting automation, improving the overall decision-making process.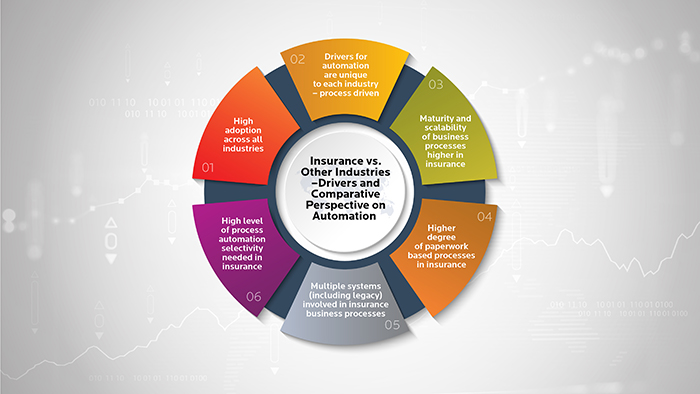 Implementing Automation In The Insurance Industry
Insurers need more than a piecemeal approach to improve operations post-pandemic. The
insurance operating model
in the next decade must look different than what it is today. RPA and AI technology will help product simplification, distribution, service, pricing, and underwriting to enhance productivity and revenue growth.
How Should Insurers Plan Their Automation Strategy
The success of automation initiatives depends on a thoughtfully crafted strategy that is perfectly aligned with business objectives. Budget and timelines are the two most crucial factors for seamless process integration. Taking into account these two parameters, insurers must consider the following 5 A's to plan their automation strategy:
Assess and identify monotonous time-consuming processes to do a cost-benefit analysis and measure the actual value that automation would bring to the table.
Align to safeguard strategic buy-in fighting the organizational inertia at the early stage of process set-up.
Act and fix up the right strategy analyzing the channel mix, internal capabilities, and creation and collaboration with strategic partners. Consider detailed documentation for RPA implementation.
Accelerate automation from task-level to end-to-end operating models. Integrate smart solutions like OCR, AI, ML to optimize the entire process.
Advocate towards effective change management through educating and training employees across departments.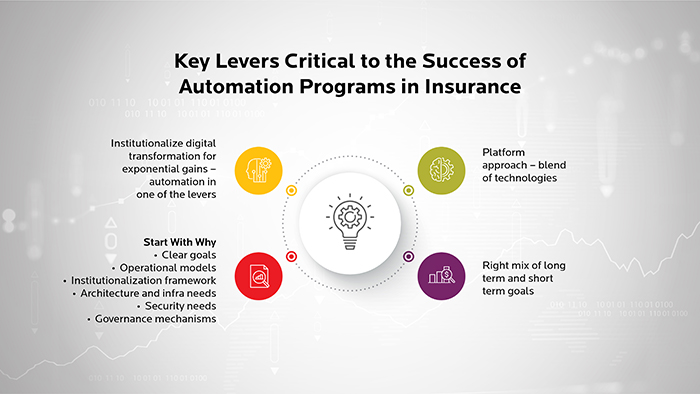 Ideal Processes For Automation
RPA automation makes a significant difference in the operations of the insurance industry. The successful integration through a well-planned strategy scales up your business processes. Here's a nine-step approach for a proper strategized automation:
Detect the average handling time and the net change in the process acceleration across different shifts and deadlines.

Do an FTE cost analysis that includes evaluating hiring, training, and retaining employees.

Determine the amount of rework that needs to be done due to errors before and after the RPA implementation.

Observe the downtime by the RPA bot in case of patch upgrades and software deployments.

Monitor the employee engagement and turnover rate

Explore the digitized audit trails – what's already done and what needs to be done

Keep a tab on the number of new projects onboarded

Make notes of the stock of compliance deficiencies over a period

Assess the amount of savings made due to the tool rationalization post-deployment of the RPA bot
These metrics would help you manage and scale your automation efforts defining a proper digital transformation roadmap.
Top Robotic Process Automation Insurance Use Cases
Broker Information Recordkeeping and Disbursements
Processing records of brokers and keeping track of the broker details is an integral part of property and casualty insurance. It is a tedious job entering details of the individual brokers and their payment processing. Hence, a proper automation process would help structure verification and updation whenever any change in the brokerage structure or any new fund initiative is launched. Process automation would further induce brokerage processing, payment instructions, and dispatch of brokerages. RPA led underwriting systems are a critical source of customer insights for agents and brokers alike.
Renewal Quote Generation in Commercial Scenarios
Brokers in the
U.S. reported that more than 91%
of clients had seen commercial property rate saw an increase this year. This increase is 25% without losses and 35% with losses. Compared to personal insurance, commercial insurance is both energy and time consuming as multiple forces come into the picture that assesses customer's risk profile. Insurers are bound to conduct stringent audits during policy renewals that demand the effortless functioning of multiple systems. These are time-bound activities, and owing to the high volume of transactions, it often becomes impossible to manage. Before scaling to a full-blown rollout operation, an automated solution could increase flexibility and enhance productivity starting at the minimum viable product stage. This dramatically helps reduce manual effort and step up the performance of the overall system.