For a long time, insurers have held onto legacy processes that have impeded the optimal utilization of talent, resources, and human energy. Tasks such as data entry, file reconciliation, payment processing, customer query management, claims evaluation, document management, etc. — and the list goes on — needlessly divert efforts from more value-adding areas such as product innovation or branding. That's why the insurance sector is a prime candidate for automation. It is estimated that process automation can reduce claims management costs by as much as 30%, and that's just one part of the insurance value chain.
By intelligently considering the value of automation, insurance CXOs can modernize their processes, transforming business capabilities for the future.
And this potential hasn't gone unnoticed. Automaton is now a fast-evolving market in the banking, financial services, and insurance segment, registering a 31.3% CAGR between now and 2025. From $32.6 million in 2016, the value of robotic process automation (RPA) in this segment jumped to $167.1 million in 2018, and this growth pace shows no signs of stopping. But to take advantage of this trend, and get on the winning side of digital transformation, insurers must first navigate several foundational challenges to RPA adoption.
Factors Preventing RPA Proliferation in Insurance
Despite the massive potential of automating processes in insurance, the change cannot happen overnight. It is imperative to have a careful strategy in place that takes into account common anxieties and challenges faced by insurers today.
Understanding your starting point can be difficult. With so many possibilities, it is a challenge to pinpoint the most mission-critical and low-risk areas for RPA implementation.
The need to uproot IT as you know it, can be a scary thought. Legacy IT has been around for decades and there can be very tight dependencies between existing systems and business functions.
The skills required to manage RPA may not be available in house. This is intensified by the lack of eagerness among young professionals to work in insurance — only 4% of millennials would like to work for an insurance company.
Regulatory pressures mean that insurers operate in a risk-averse climate. How do you alleviate risk and ensure that your RPA adoption roadmap is safe, geared for assured business outcomes?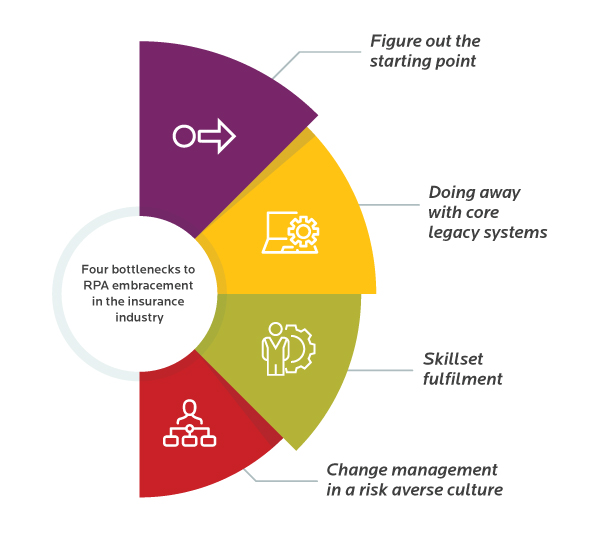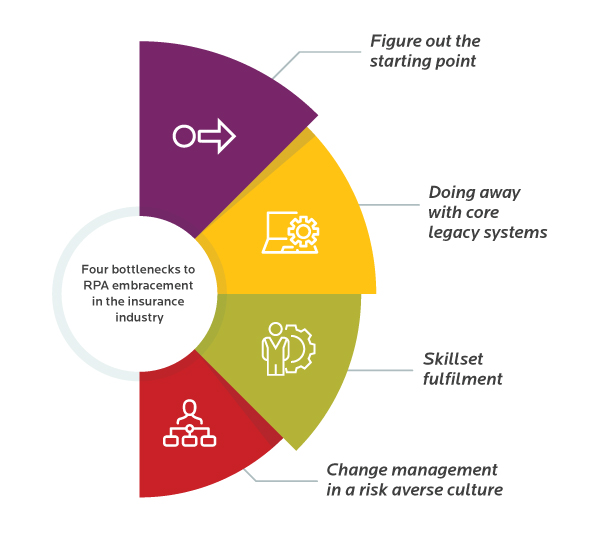 To begin with, one needs to look at the benefits of RPA in insurance. In addition to time and cost savings, it gives you a unique competitive advantage, helping to stand out against a growing number of digital-born insurtech companies. Between 2015 and 2016, insurtechs raised over $4 billion in funding, indicating a clear threat to legacy insurance companies. Innovations such as RPA can help to keep up and future-proof your business model.
By identifying the most promising use cases in your enterprise, and cautiously investing in early experiments with well-defined SLAs, insurance CXOs can fast-track the transformation journey without compromising on the certainty of business outcomes. Here are two illustrations of how RPA could positively impact your processes, and not upend them.
Use Case 1: Streamlining Frequent Changes in Policy Forms
Any insurance company will witness frequent incoming requests from customers to alter their active policies. On top of that, new regulations can also compel insurers to relook at policy forms at regular intervals. For large-sized enterprises, this leads to a very high volume of paperwork, with a significant risk of data duplication, redundancies, and errors. Without standardization in policy form structures, policy administration becomes a complex process, delaying the launch of new products.
This can be addressed by an automated policy document management system that creates an uninterrupted workflow from requests to alteration and storage. Also, automation can help to sanitize policy templates in bulk, well within the stipulated deadlines for a product launch. In our experience, this approach can reduce turnaround time by 60% and overheads by 25%.
Use Case 2: Renewal Quote Generation in Commercial Scenarios
Commercial insurance involves a lot of time and effort, owing to the multiplicity of factors influencing a customer's risk profile. At the time of policy renewal, insurers must conduct stringent audits — and traditionally, this requires using multiple systems. Needless to say, the code generation timelines are inordinately high, and high-volume transactions are near impossible to manage.
An automation solution implemented in an agile model (starting with a minimum viable product before scaling to a full-fledged rollout) can help to dramatically reduce manual effort. We have observed that this shrinks timelines by 65%, while also improving productivity by 45%.
The Way Forward for Insurers
Despite initial anxieties, insurance CXOs must boldly look at an era of intelligent automation, driven by the right RPA partners. McKinsey found that digitizing the existing business could lead to more than twice the current profit in just five years. Cutting-edge RPA solutions available in the market today, coupled with strategic insights on which areas deserve your interest and investment, can help you unlock this immense potential.