As IoT technology starts to commodify, supply chains are becoming increasingly digital; predictive maintenance, real-time shipment monitoring, and smart inventory management are some of the trends that have gone mainstream.
IoT In Supply Chain Use Cases
1. Asset Tracking
One of the most straightforward applications of the humble IoT sensor is the ability to transmit geolocation data with as much frequency as desired. This application lends itself directly to manufacturing concerns that have been actively looking for ways to manage the increasing
complexity of their supply chains
. IoT-enabled asset tracking possesses the immense potential to unlock newer and more innovative ways of improving manufacturing operations: from improving overall equipment effectiveness to optimizing logistics and warehouse operations, the possibilities are endless. In light of this, it is not surprising that Asset tracking is the fastest-growing segment within the Industrial IoT market, with over 267 Million trackers expected to be
active by 2027
.
Stay Ahead
Visit our Manufacturing page
2. Fleet Management
Yet another technology that has emerged from the principles governing IoT technology is fleet telematics. Through the installation of electronic logging devices (ELDs), it is now possible for firms to be able to get a complete picture of what their vehicles and drivers are doing and use that information to optimize their businesses. If
implemented correctly
, fleet telematics can have a positive and measurable impact on safety, reliability, fuel consumption, and adherence. With fleet telematics being a legal requirement in certain geographies, manufacturers have already started offering their customers the ability to track and monitor their fleets, with some also extending this service to
predict and prevent
equipment and fleet breakdown.
3. Manufacturing Maintenance
For the manufacturing industry in particular, one of the biggest promises that IoT held was in the field of maintenance. In the past few years, this has presented itself in two ways: predictive maintenance and augmented/virtual reality for manufacturing maintenance (and training). While both of these solutions are possible, customer attractiveness and vendor readiness have prevented both of these
applications
from realizing themselves fully. Apart from a few implementation barriers, both companies and vendors are close to leveraging these technologies as a means to expedite traditional maintenance processes.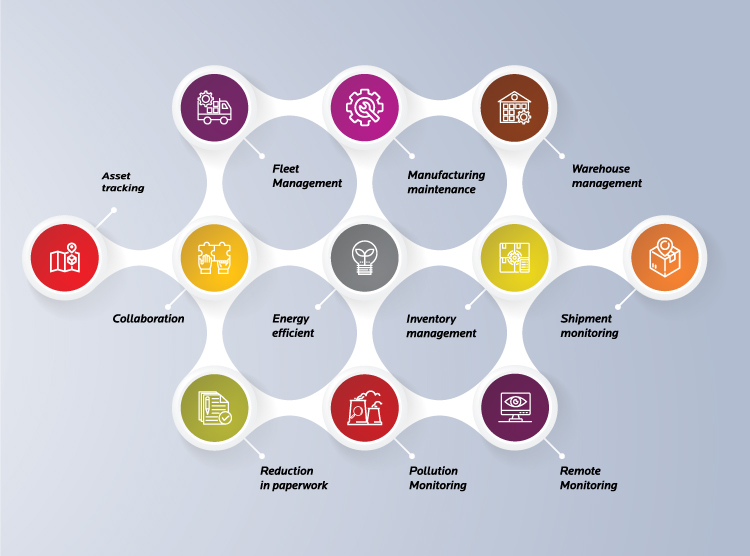 Use Cases of IoT In Supply Chain
4. Warehouse Management
Through the mechanism that enables asset tracking and fleet management, IoT also lends itself readily to smarter warehouse management, thereby making it the preferred technology for a full-stack transportation/distribution solution. The advent of eCommerce and the general acceleration in economic activity means that warehouses are increasingly being looked at as hubs that would also increase speed and efficiency. IoT forms a core part of warehouse automation technologies, particularly with devices like
smart glasses for vision picking and autonomous mobile robots (AMRs) for several warehousing functions
.
5. Collaboration
The allure offered by IoT devices is its ability to provide free-flowing real-time data, which can then be used to almost any end, as defined by its users. While IoT technologies might not have lived up to the hype that preceded their introduction, one cannot ignore the fact that those devices which did connect to the internet have delivered massive value to their users. This idea could easily be extended to provide collaborative capabilities, which in turn could make for a tightly-knit information delivery system that ensures its users have real-time, accurate visibility into their operations.
6. Energy Efficiency
It is lamentable that most of the data generated by IoT devices are rarely ever used, and even those that are used are never fully exploited. Furthermore, in manufacturing/factory floor settings, the data gathered from IoT is only used for real-time control and
anomaly detection
. The data that is untapped, if channeled properly, can be used to analyze workflows to the point where it is possible to optimize operating efficiency. In fact, it is well documented that for companies to drive application of IoT in logistics and supply chain, they will have to focus heavily on their business processes.
Connected factories
and plants can use IoT to improve quality, enhance efficiency and reduce waste.
7. Inventory Management
Inventory management remains a chronic source of stress for companies, especially as they expand their geographic footprint and actively look for ways to keep holding costs low. A bulk of these problems stemmed from the lack of a reliable tracing mechanism, causing a whole host of 'visibility gaps' that caused
many inefficiencies
. Luckily, IoT technologies solve the problem of traceability, which, when combined with a tamper-proof logging technology like blockchain, can plug these visibility gaps.