The line between the physical and digital worlds has been shrinking ever since the digital wave disrupted our daily functions and markedly transformed. With every physical task augmented with real-time digital experience, it is becoming impossible to keep the physical and digital worlds apart. The push by an unexpected pandemic and the prolific technological adoption across the entire industrial ecosystem has, in turn, accelerated the 4th industrial revolution, making technology the fulcrum of every process.
Stay Ahead
Visit our Manufacturing Page
Significant breakthroughs in emerging technologies - Artificial Intelligence (AI), Robotic Process Automation (RPA), Nanotechnology, the Internet of Things (IoT), Autonomous Vehicles, 3D Printing, Biotechnology, Materials Science, Quantum Computing, Blockchain, and Predictive Analysis have brought in the concept of immersive experiences. As a result, human behaviour is interpreted at every touchpoint to tailor better experiences, minimise error and deliver optimised outcomes that aim at improving customer experience and contributing to increased revenue.
This technological hypergrowth has been very beneficial for the factory set-up. Heavy goods manufacturing units and factories are redefining their technical framework by using Big Data, Blockchain, AR/VR and Robotic Process Automation (RPA) to maintain the demand-supply balance, bring more transparency to the system, identify system challenges easily and come up with possible solutions just in time.
The Role Of Co-bots In Manufacturing Set-ups
Manufacturing firms are moving towards their vision of smart factories and investing billions in RPA and IoT.
Over the next few years, most of these firms seek to improve their shop-floor productivity and supply chain efficiency. In addition, they aim to move beyond the shop floors and create a wholesome experience for their end customers with minimal human intervention.
Non-production processes like customer service, HR, finance, procurement, administration and overall employee knowledge management, which didn't get much attention, have now become the prime focus for process automation and ai. Collaborative robots, also known as co-bots, provide automated solutions designed to work with and alongside the human workforce. They are increasingly capable of performing every task under the roof and are strategised to carry out repetitive tasks daily. Furthermore, they can work alongside the human workforce, making their jobs easier by completing monotonous or physically demanding tasks. This not only leads to better productivity but is also economically viable.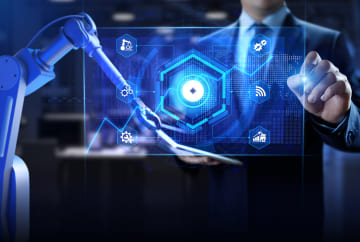 Simulation Modelling And AR/VR For A Holistic View
With continuous evolution comes the pressure of staying relevant in a world of heightened competition. Conquering newer market segments and adapting to the latest trends has become necessary for manufacturers. This is where Simulation Modelling and AR/VR contribute to a smart set-up.
The simulation method helps to understand and predict the nature of specialised actions in the design stage itself, making it easier for businesses to identify loopholes in the concept beforehand. Furthermore, a strategic combination of simulation modelling and AR/VR helps optimise manufacturing processes, enhancing supply, inventory management, and production. As predicted by MarketsandMarkets, the AR market will grow at the rate of 46.6 per cent annually, reaching $72.7 billion by 2024. These technological concepts revolutionise industry capabilities from knowledge management to maintenance and product developments.