Early adopters and now digitally-enabled manufacturers, on the other hand, are exploring the potential of other promising technologies such as blockchain. While blockchain has occupied our mindshare for some time now, its potential benefits for the manufacturing industry have not been universally recognized.
To understand the 'why' behind that conundrum, let's delve deeper into how the technology works and discuss its applications across the manufacturing value chain. Simply defined, blockchain is a "an expanding list of cryptographically signed, irrevocable transactional records shared by all participants in a network." It differs from other record-keeping technology as each transaction across the peer-to-peer network owning the blockchain is recorded, verified and publicly visible within the network.
Furthermore, it is interesting to note that leading industry analysts have optimistic predictions around the adoption of blockchain – close to 30% manufacturers (with more than $5 billion in revenue) would implement industry 4.0 projects leveraging blockchain by 2023.
Buzzword or reality?
Today, manufacturers across the globe face challenges with forecasting demand, controlling inventory, managing manufacturing plant capacity, ensuring ROI, and accelerating digital transformation, considering changing market dynamics and evolving customer expectations.
Add to that, limited operational visibility due to complex and expansive supply chains spread across geographies – which make it difficult to track and trace the movement of raw material, finished products and spare parts, as they make their way through production facilities, warehouses, distributors and sales outlets.
Also, there is the problem of warranty fraud. Some studies in the U.S. place dealer/servicer fraud at a whopping $2.61 billion annually, which can be attributed to the lack of real-time, intelligent and proactive claims monitoring and ineffective internal fraud controls.
The question then arises – is blockchain the solution to pertinent challenges being faced by the manufacturing sector? The following use cases of distributed ledger technology should help us answer that: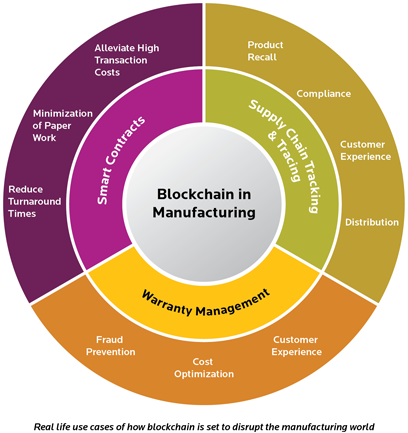 Supply chain tracking and tracing

For manufacturers, ensuring superior traceability is paramount as it affects product recall, compliance, customer experience, and most importantly, distribution. By employing IIoT and blockchain together, manufacturers can streamline how they aggregate, store and share data with partners across the supply chain.

The IoT-linked sensors collect data at every stage of the value chain – from raw material to the finished product – and store it on the secure, peer-to-peer network, thereby, facilitating a single source of the truth and enabling all supply chain partners to access that data at any time.

The sensors may record information such as temperature, moisture, location, and other environmental or physical factors that may affect the quality and efficacy of the final product. Any unprecedented deviations across those factors triggers an alert and the concerned party can take appropriate corrective action.

When compared to more traditional methods of tracking, such as radio-frequency identification (RFID), global positioning system (GPS) and near-field communication (NFC), blockchain and IIoT present a more holistic solution with advantages in terms of data transparency, completeness and integrity.

Warranty management

Seamless warranty management is not just essential for the manufacturer to prevent fraud and minimize costs, but also critical for delivering impressive customer experience. From false claims and fake product to misunderstandings about coverages, there are myriad challenges faced by companies.

By bridging the information gap between manufacturers, warranty providers, other participants in the supply chain and the consumers, blockchain helps streamline the warranty lifecycle. With immutability at the core of the distributed ledger technology, companies can tightly secure the chain of custody, ensuring no counterfeits make their way into the supply chain and subsequently, no fraudulent claims are filed.

Excellence in warranty management is essentially another benefit that can be derived from the exceptional traceability offered by blockchain.

Smart contracts

Blockchain allows for the implementation of smart contacts which can be understood as pre-programmed instructions that are carried out if a set of previously agreed terms and conditions are met. In manufacturing, such smart contracts may help alleviate unnecessarily high transaction costs, minimize paperwork and accelerate turnaround time significantly.

For instance, a smart contract between a retailer and manufacturer may involve automated settling of invoices once payment terms are met. Using the data collected from sensors across the supply chain, the smart contract can determine if pre-decided conditions with respect to the successful product delivery have been fulfilled, and thereafter, initiate the payment.
EXPLORE: Birlasoft | Blockchain for Enterprises
Should you hedge your bets?
Those use cases, as promising as they might seem, are still to undergo the tests of scalability and viability in real-world scenarios as early adopters and high-tech giants experiment with blockchain technology. However, we are confident that manufacturing supply chains will witness unprecedented benefits from the integration of distributed ledger technology and IIoT.
Manufacturers making investments to explore the possibilities offered by blockchain are seeing very positive results. To understand that better, let's look at common challenges faced by manufacturers such as non-availability of critical information including warranty coverage and part and warranty updates.
There is also revenue leakage due to warranty fraud and high warranty cost owing to data inconsistencies. Moreover, the customer experience gets hampered because of longer turnaround time and poor transparency.
To address those challenges smartly, manufactures, especially in the automotive space, are piloting blockchain-based solutions to enable superior data visibility and ensure a single source of truth for end customers, distributors, OEMs, and tier 1 and 2 suppliers.
The results are self-evident – with blockchain, companies can facilitate quick approvals and settlements, enhance efficiency, minimize fraudulent activity and deliver a high level of transparency to its customers and partners.
The first-mover advantage will be significant in this case as the technology delivers savings in frictional costs and builds trust with stakeholders across the manufacturing value chain. Blockchain should be seen as an investment in future-readiness and customer-centricity, not as an experimental technology – because, the evidence is overwhelming.
At Birlasoft, our consultants work with manufacturers to uncover blockchain opportunities, build use cases, develop and deploy proofs of concept, and finally, integrate blockchain with incumbent processes and systems and bring this concept to life. To learn more about what we are doing in this space, click here