Early adopters and now digitally-enabled manufacturers, on the other hand, are exploring the potential of other promising technologies such as blockchain. While blockchain has occupied our mindshare for some time now, its potential benefits for the manufacturing industry have not been universally recognized.
To understand the 'why' behind that conundrum, let's delve deeper into how the technology works and discuss its applications across the manufacturing value chain. Simply defined, blockchain is a "an expanding list of cryptographically signed, irrevocable transactional records shared by all participants in a network." It differs from other record-keeping technology as each transaction across the peer-to-peer network owning the blockchain is recorded, verified and publicly visible within the network.
That gives blockchain or distributed ledger technology its inherent qualities of immutability, superior transparency and data security. Moreover, the technology makes multi-party transactions friction-less and cost-efficient, which can be especially beneficial for the manufacturing ecosystem consisting of multiple parties interacting with each other at every step of the value chain.
According to Gartner, the business value-add of blockchain is expected to exceed $3.1 trillion by 2030
.
A Gartner supply chain technology survey found that only
9% respondents
have invested in blockchain technology, which could be attributed to the lack of commercially available, plug-and-play solutions. But, that is about to change, considering the astonishing pace at which large technology players are making strategic investments in developing scalable and cost-effective blockchain solutions for the smart manufacturer.
Stay Ahead
Visit our Manufacturing page
Furthermore, it is interesting to note that
leading industry analysts have optimistic predictions around the adoption of blockchain – close to 30% manufacturers (with more than $5 billion in revenue) would implement industry 4.0 projects leveraging blockchain by 2023
.
Buzzword or reality?
Today, manufacturers across the globe face challenges with forecasting demand, controlling inventory, managing manufacturing plant capacity, ensuring ROI, and accelerating digital transformation, considering changing market dynamics and evolving customer expectations.
Add to that, limited operational visibility due to complex and expansive supply chains spread across geographies – which make it difficult to track and trace the movement of raw material, finished products and spare parts, as they make their way through production facilities, warehouses, distributors and sales outlets
Also, there is the problem of warranty fraud. Some studies in the U.S. place dealer/servicer fraud at a whopping
$2.61 billion annually
, which can be attributed to the lack of real-time, intelligent and proactive claims monitoring and ineffective internal fraud controls.
The question then arises – is blockchain the solution to pertinent challenges being faced by the manufacturing sector? The following use cases of distributed ledger technology should help us answer that: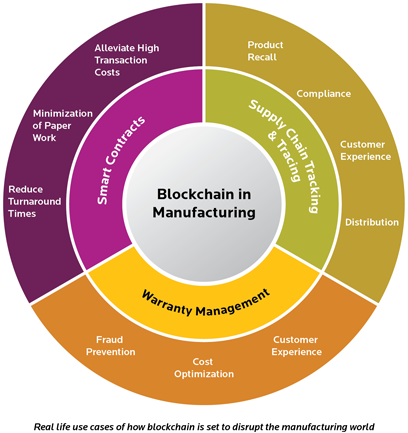 Supply chain tracking and tracing
For manufacturers, ensuring superior traceability is paramount as it affects product recall, compliance, customer experience, and most importantly, distribution. By employing IIoT and blockchain together, manufacturers can streamline how they aggregate, store and share data with partners across the supply chain.
The IoT-linked sensors collect data at every stage of the value chain – from raw material to the finished product – and store it on the secure, peer-to-peer network, thereby, facilitating a single source of the truth and enabling all supply chain partners to access that data at any time.
The sensors may record information such as temperature, moisture, location, and other environmental or physical factors that may affect the quality and efficacy of the final product. Any unprecedented deviations across those factors triggers an alert and the concerned party can take appropriate corrective action.
When compared to more traditional methods of tracking, such as radio-frequency identification (RFID), global positioning system (GPS) and near-field communication (NFC), blockchain and IIoT present a more holistic solution with advantages in terms of data transparency, completeness and integrity.
Warranty management
Seamless warranty management is not just essential for the manufacturer to prevent fraud and minimize costs, but also critical for delivering impressive customer experience. From false claims and fake product to misunderstandings about coverages, there are myriad challenges faced by companies.
By bridging the information gap between manufacturers, warranty providers, other participants in the supply chain and the consumers, blockchain helps streamline the warranty lifecycle. With immutability at the core of the distributed ledger technology, companies can tightly secure the chain of custody, ensuring no counterfeits make their way into the supply chain and subsequently, no fraudulent claims are filed.
Excellence in warranty management is essentially another benefit that can be derived from the exceptional traceability offered by blockchain.