Artificial Intelligence and Industry Internet of Things in the cement industry is catching up fast. The new AI and IIoT technologies are like a refreshing wave. Implementation of these advanced technologies creates more openness in the system and aims to plaster the various challenges that come with supply chain optimization.
Supply Chain and Logistics Challenges in Cement Industry
Lack of supply chain visibility
With complex supply chains spread across geographies, cement manufacturers must look at smarter solutions to improve operational surveillance. Increased demand for cargo pickups from different locations and their delivery to hubs combined with restricted truck times, regulation policies, and changes in customer expectations make planning difficult and challenging. Proper visibility is necessary to understand where an item is in the supply chain route.
In the current times, customers need to have end-to-end transparency of the sourcing and delivery procedure. This market dynamism requires strategic supply chain management and flexible scalability as the demand grows. Smart businesses are embracing the industry 4.0 approach.
Stay Ahead
Visit our Building and Construction Materials page
They are further exploring and investing incessantly in new edge technologies like artificial intelligence, machine learning, business analytics, and digital control towers to enhance Supply Chain and Logistics Visibility.
The high degree of volatility and latency in demand patterns
Even without the pandemic-induced volatility, supply-demand uncertainty is a major concern for the cement players. Industries need to produce and have enough inventories to meet any sudden rise in demands. Uncertainties during the pandemic and keeping operations up and running to meet customer's demands have led organizations to adopt
demand sensing and machine learning technologies
in their supply chain. The manufacturers use exclusive external data sets such as location, stock-outs, weather conditions, point-of-sale data to have a true view of the customer and channel demand. Since the beginning of the pandemic, businesses that were smart to integrate machine learning for demand forecasting have achieved
90% accuracy with a 3-month lag
compared with 60% accuracy from manual forecasting techniques.
Inefficient logistics and plant operations
Ignored and unmanaged logistics, inefficiency in the distribution centers and manufacturing plants impact the supply chain's cost significantly. Smart cement plants today are uncovering the operational inefficiencies and turning them into fully functional capital with the help of IIoT. IIoT enhances traceability, improves supply chain efficiency, and combines with big data analytics and machine-to-machine communication to identify logistics and operations' inefficiencies through historical data analysis. Businesses have a better grip on managing their operating expenditure now. By integrating smart technologies, they can go beyond the automation of plant operations and optimize profitability by augmenting time to market while improving services.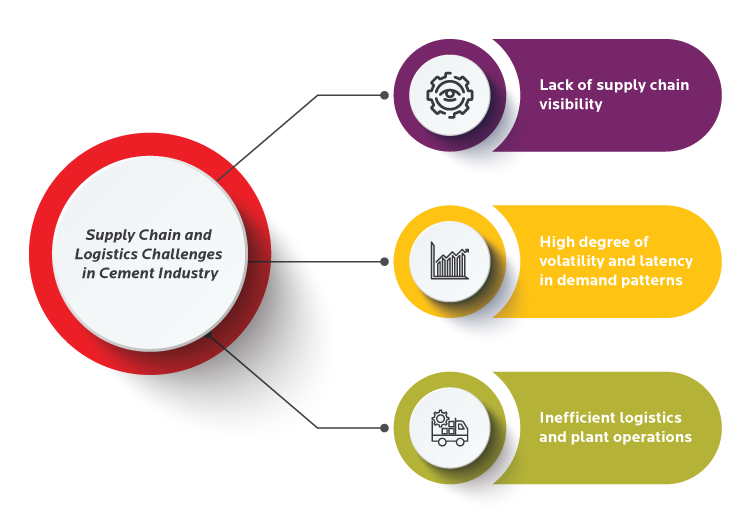 Supply Chain and Logistics Challenges in Cement Industry
AI and IoT in Cement Industry – Top Supply Chain Use Case
Plant-wise summary and inventory visibility at silo level
According to a PWC study,
digitized supply chains
are a major revenue booster for heavy industries like cement manufacturing. An outbound supply chain performs complex tasks from inventory procurement to the distribution of finished goods. It also includes streamlining demand, inventory sourcing, and distribution to all channel partners in the chain. Thus, transportation and inventory management is one of the biggest challenges for the cement industry.
From the quality of the coal to the end product's chemical properties, dozens of variables come into the picture for a successful plant and inventory management. Therefore, optimization across the supply chain is a necessity. The
digital twin
model makes it a cakewalk by simulating the entire production process in a simplified manner. This digital model generates scenarios across the entire production site based on which equipment and settings are optimized for achieving the desired output levels.
Several smart IIoT and AI solutions have to coordinate effectively to improve the overall business processes. Multiple data points came together in tracking and tracing information. Automation of pic pack loads, tracking activities, performing routine tasks with greater speed and accuracy, making snap decisions with predictive analytics, and achieving zero-error preventive and predictive maintenance in cement plant, deployed with smart solutions.
Order tracking, receipts, and monitoring
Demand forecasts help manage the demand and supply of the product, ready-mix cement, and concrete suppliers. A consolidated network of checkpoints and milestones needs to be monitored for an organized transaction. This ensures that all the physical flows are in line with the overarching business strategy and documentation.
Businesses must put a schedule and structured document of the order, maintenance, and delivery processes. The intervention of AI and IoT simplifies the process resulting in proper quality control and improved efficiency. For instance, a transportation manager needs to check on intricate details like transit times, rates, and weight limits for the suppliers and warehouses. Similarly, customer service agents process orders and must ensure that order contracts, invoices, receipts, processing time, and delivery are tracked and updated in the master data. Suppliers depend on schedules to understand day's loads and off-loads, keep a tab on time and ensure everything is ready for dispatch. With the support of these advanced solutions, they connect with dispatchers for a timely delivery. Along the process, they have to deal with last-minute delays, cancellations, and traffic. Reliable AI and the industrial internet of things ensure improved delivery through actionable insights.