Asset management is one of the differentiating factors that help a manufacturing entity gain a competitive advantage. Innovating IoT-based solutions to empower asset management drives quality business operations. Availability, performance, and quality are the three critical drivers for overall equipment effectiveness (OEE) for a manufacturing entity. IoT-powered solutions will help monitor and detect specific problems, such as missing parts, faulty areas, and scope of improvement. With these improvements, the firm can achieve 80% OEE.
Successful business operations consist of interconnected processes working in coherence with each other. A fault in asset management and production would ultimately cause a lag in the supply chain.
Stay Ahead
Visit our Manufacturing page
Companies then use IoT tools to improve OEE by discovering all these challenge areas, for example, low-volume, high complexity, discrete manufacturing set-ups, and turn them into favorable opportunities.
Key Trends in IoT Based Asset Management
IoT-based smart asset management is a step up from the traditional. It is what the traditional solutions did, plus a lot more. These
new-age smart solutions
transform workflows and processes into an integrated one, building a 'single strategic system.' It adds intelligence with real-time data analysis, alerts, dynamic edge control of assets, predictive maintenance, and real-time visibility, along with automated workflows. Here are some of the key trends in IoT based Asset Management:
Remote Asset Tracking: IoT uses cloud-based technology, helping employees to retrieve information on the various assets anytime, anywhere.
Asset Health/Condition Monitoring: Cost-efficient and proactive method to evaluate the various health indicators and associated risks, events, policy execution history, and recommendations for improved asset health.
Asset Lifecycle Management: Comprehensive record of asset portfolio optimizing the profit generated by the various assets throughout their lifecycle.
Asset Workflow Automation: Taking care of mundane and monotonous work to accelerate business processes, reduce errors, and increase team productivity through powerful automation capabilities.
Predictive Asset Maintenance Stay alert of your asset shutdowns and downtime by understanding the performance threshold and planning backup measures accordingly.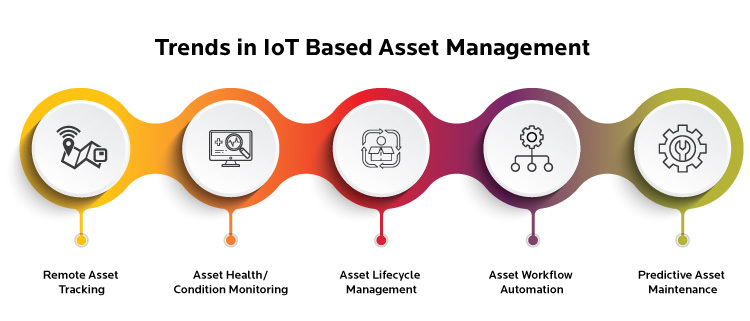 Trends in IoT Based Asset Management