Amidst such chaos, Artificial Intelligence (AI) brings peace by introducing the concept of 'Connected Factories.' Connected Factories are those entities that are built using sensors and inexpensive cloud technology. From manufacturing devices to processes, cloud-based storage and analytics assess real-time data. This ensures timely, detailed intelligence to improve productivity, efficiency, and yields, ranging from stock and inventories to production status, supply chain distribution, and manufacturing facilities output. According to a BCG analysis, AI can reduce producers' conversion costs
up to 20%
, and it is imperative to design the factory of the future.
Key Features of Connected Factories
The factory of the future in the manufacturing world is gearing up to embrace Industry 4.0. Smart manufacturing is soon to replace and disrupt the space giving birth to
smart factories
, implying the digitization of the operations, empowering them with networked capabilities to enable seamless data exchange. Some of the distinct features of connected factories are as follows:
Touchless Systems
Minimizing human intervention in repetitive tasks and entire plant data automation enables a more self-service oriented set-up for factories through disruptive AI, chatbots, and intelligent business solutions. From product conceptualization and design to customer management, factories are going almost touchless.
Transparency Carved On A Single Source Of Truth
From processing raw materials to finished goods, these MES platforms are controlled and connected via cloud solutions and operating systems, ensuring a centralized information flow. This minimizes the risk of discrepancies and duplicates leading to one single source of truth.
Stay Ahead
Visit our Manufacturing page
Manufacturing stakeholders can view critical data and insights as per their business persona, irrespective of operational locations.
Data Analysis From Connected Touchpoints
Data-driven solutions are one of the many prominent features of a Connected Factory. Any device or network that collects, processes, and relays data is essential to take a specific stance. In such a connected data-intensive ecosystem, 5G connectivity is beneficial. Faster data churning and low latency are essential to scale up smart factory projects.
Enable Real-Time Actions
Factory floors, assembly lines, production, and distribution are all monitored in real-time in a connected factory set-up. Automated alerts are enabled on order arrivals, inventory shortage, and when particular KPI thresholds are achieved. With the help of this avant-garde concept, manufacturers can take a proactive approach to operations management.
Easy To Scale Without Disrupting Existing Infrastructure
Connected factories ensure frictionless scaling as specific enterprise solutions are deployed using various types of cloud technology that speed up vital tech integrations and time-to-market. Therefore, the factories of the future are all well equipped to exhibit flexibility in case of central, regional, or decentralized deployments.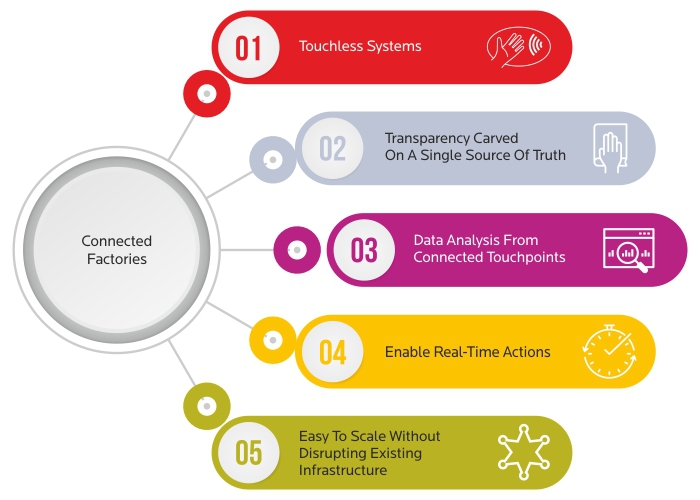 Key Features of Connected Factories