We have seen businesses going digital for more than a decade now, however, following the outbreak of COVID-19, digitalization has become an integral part of an enterprises' business strategy to survive in the new normal.
Additionally, the role of a CIO has been upped towards driving swifter adoption of digital technologies, and automation technologies to transform employee and customer experiences. Today, companies that want to digitally transform themselves must execute and respond effectively to customers and employee needs. This will help them remain competitive and drive the stakeholder/shareholder value.
Stay Ahead
Visit Our IT Transformation Services Page
Technology as the Key Enabler
Technology has always created new avenues which have helped in understanding improved ways of engaging with customers, planning towards increased turnover, and discovering new areas in technology that can empower businesses.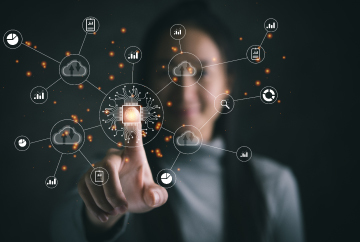 In the past few years, the pandemic withstanding, technology leaders have focused on working on unified business platforms to enhance visibility and support the scale of growth. That's why adopting hybrid ways of working is becoming paramount. To implement this working model, having a digital-first and remote-first mindset along with the appropriate infrastructure, policies, and practices are essential to provide a seamless and scalable digital experience.