The abundant data generated by the Coronavirus (COVID-19) has given researchers and medical service providers, including equipment manufacturers, the opportunity to analyse trends, monitor patient populations, and address longstanding issues in the healthcare industry. Having the ability to anticipate the impact of a treatment is critical in the midst of a healthcare crisis. Medical service providers are increasingly turning to predictive tools to understand better which patients are at risk, where resources are most needed, and where the disease is likely to spike next.
The advent of digital technologies has substantially transformed the healthcare landscape over the past few years. It has accelerated the need for care providers and medical device manufacturers to set up agile and efficient IT Infrastructure while maintaining high product quality and controlling cost.
The rapid digitisation within the healthcare ecosystem has left healthcare providers with a lot of data that lies mostly untapped. This data can be extremely beneficial in having predictive analysis for better treatment of patients. From improving the diagnosis to monitoring the vitals and from drug discovery to assisting in robotics surgery, technology can deliver breakthrough results. It not only empowers care providers to act quickly and effectively but also eliminates any possibility of incorrect diagnosis. However, the use of technology in the healthcare ecosystem is crucial for
Stay Ahead
Visit our Life Sciences & Healthcare page
Enhancing Patient Experience
Why it is important for healthcare providers: AI and IOT implementation is one of the most disruptive and potentially impactful advancements in the healthcare sector. It has the potential to bring about significant improvements in the healthcare ecosystem.
It can help improve outcomes by improving the experience patients have at each stage of their treatment. According to a study by research firm Frost & Sullivan, AI can improve patient outcomes by 30 per cent to 40 per cent while reducing treatment costs by up to 50 per cent.
The AI-led predictive approach can be used to detect early warning signs that, if left unattended, could be disastrous. It enables healthcare providers to take a comprehensive approach to disease/illness management, better coordinate care plans and assist patients with their healthcare treatment programmes. For instance, if a patient has a pacemaker, it needs to be monitored for a precise diagnosis, consultation and the next level of treatment.
Similarly, the industry also wants smart and connected hospitals. Having smart beds is the need of the hour. They not only monitor the vitals like body temperature, heartbeat, blood flow, oxygen and heart rate but are also embedded with sensors to alert nurses when the patient gets out of bed. All these things go into the making of an excellent omnichannel patient experience.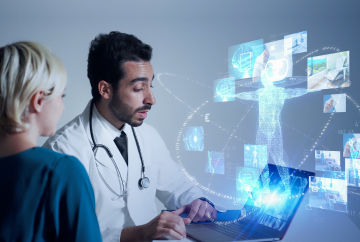 Why it is important for Medical Device Manufacturers: For medical device manufacturers, ensuring uninterrupted and reliable services under all circumstances is the key. Leveraging IoT sensors to collect, interpret and deliver machine data can have a huge impact on service quality and subsequently, on patient care. Therapeutic devices having connected sensors can make management and maintenance of critical equipment safer and smarter.
Preventive maintenance powered by AI and driven by IoT can anticipate machine or component failure and provide recommendations for quick and accurate repairs. For healthcare providers, it means lower downtime and improved patient outcomes. Using the maintenance data from the devices and applying advanced analytics, medical device manufacturers can help their customers from incurring excessive costs.
Streamlining Hospital Operations
AI and IoT have the power to enable healthcare providers to improve workflows, cut waste, reduce errors and shift human employees' focus from manual data entry to more complex tasks that require a human touch.
It also helps in streamline administration functions like scheduling patient visits, maintaining sanitization standards, equipment utility tracking, and predictive maintenance of expensive equipment. For instance, if a hospital needs a set of equipment for a surgery, they can get it from medical devices and equipment manufacturers. The IT integrated technology helps here in tracking the usage of these equipment.
At the same time, another important aspect which needs due attention is Cybersecurity. AI-enabled solutions can help health systems reduce risk by recognising behaviours that are not genuine, such as a user trying to access patient logs from a suspicious location. Cybersecurity helps hospitals avoid data leaks and other security threats.