Cloud Analytics is a direct result of the sudden spike in data due to the digitization wave. Companies found themselves unable to gather, maintain and process the deluge of information and actively look for more economical ways to process vast swathes of data. Cloud Analytics comes with enormous volumes of data, coupled with its affordability and accessibility, makes it a ready-reckoner for the growing demand for big data analytics.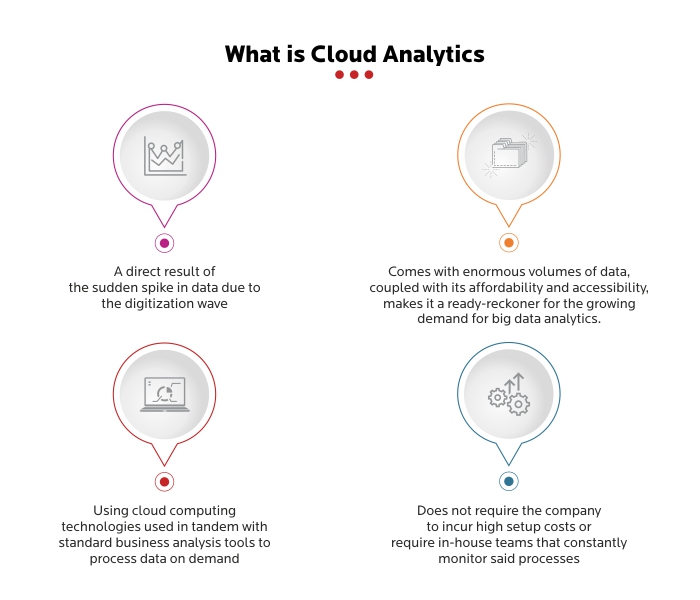 What is Cloud Analytics
How Does It Work
Cloud Analytics offers an advanced analytics platform via a browser interface for companies to analyze vast quantities of data. Cloud-based services are generally defined in the form of a network or a group of networks, allowing internet-connected devices access to shared pools of resources: be it servers, applications, or even services. This also means that data can be generated and processed in real-time for companies to be able to 'feel the pulse' of their operations at any given point in time
Stay Ahead
Visit our Digital Transformation page
Benefits of Cloud Based Analytics
Data Consolidation
A significant drawback with on-premise analytics platforms is the inevitable headache companies have to go through when gathering and integrating data from different sources. This can prove expensive, even for large companies that have the finances to see it through. With cloud analytics, building multiple data pipelines is easier and enables the company to consolidate their data and move away from batch processing to real-time processing without increasing costs. This is all the more relevant as over a quarter of the world's data is expected to be real-time in nature.
With on-premise solutions, firms had to build proprietary interfaces for internal teams to access, review, and use even the most common data sets. Despite being slower, inefficient, and more expensive, it was the only way for technology companies to ensure the security of sensitive data.
Cloud analytics
allows companies to build data architecture that exposes critical information via APIs to limit user permissions faster and up-to-date. This allows for increased access and collaboration amongst analytics teams.
Scalability and Agility
Effortless scalability has always been a significant business driver for
cloud adoption
. As the 'global data sphere grows more prominent, IT operations begin to increase complexity levels. This has stretched the limits of yesteryear database management systems as they were not built to handle such large volumes of data beyond a certain threshold. Both of these conditions provide a case for newer architectures and analytics platform solutions that allow for the extraction of complex
predictive and descriptive models
.
In addition to scalability, cloud analytics solutions also enable the company to iterate and act on newer questions and problem statements that could throw light on issues that could not be detected before.
A 2017
cloud computing study
undertaken by the Harvard Business Review revealed that business agility was a 'key strategic business demand' that served as one reason why companies actively considered adopting a hybrid cloud setup. Cloud analytics lends itself to this demand easily and enables companies to sustain increased agility as a competitive advantage for the long term.
Security
One of the significant quips with
cloud platforms
, particularly those that involve the usage of public cloud infrastructure, is the vulnerability that comes with it. Senior executives have often cited security as a reason behind why they were reluctant to consider them in the first place. After all, developing a proper understanding of security risks is crucial in putting together a
cloud application modernization strategy
that is likely to yield benefits in sync with that of the company's expectations.
Fortunately, these reservations about security have primarily been dispelled by Cloud service providers (CSPs), most of whom have made significant investments in cloud security. The industry-wide pressure on CSPs for allaying their clients' security concerns has bode well for the industry as CSPs seek to one-up each other by offering increasingly secure services with no natural
increase in costs
.
Cloud analytics platforms will not only be more secure, but they also bring an advanced level of security with increased processing capabilities, a feat that most companies will not be able to replicate by themselves.
Collaboration
Data consolidation means that teams across the organization will no longer have to access different avenues of data and will instead be drawing from the same pool as other teams. This level of standardization in data access eliminates any bottlenecks that could prevent more profound and more meaningful forms of collaboration within the organization. Collaboration serves as a meaningful use case for large enterprises as the cloud should be the home for all
internal collaboration platforms
.
Collaborative analytics
is a relatively new concept for which best practices and methods are only beginning to be realized. With modern data collection and storage systems, collaborative analysts can broadly be categorized into two buckets: implicit collaborative analytics and detailed collaborative analytics.
Cloud analytics solutions lend themselves to both forms of collaborative analytics as they not only allow companies to discover methods that emerge automatically and organically but also those that involve deliberate, team-driven requests. Being a shared analytics hub, cloud analytics is best suited for both forms of collaboration.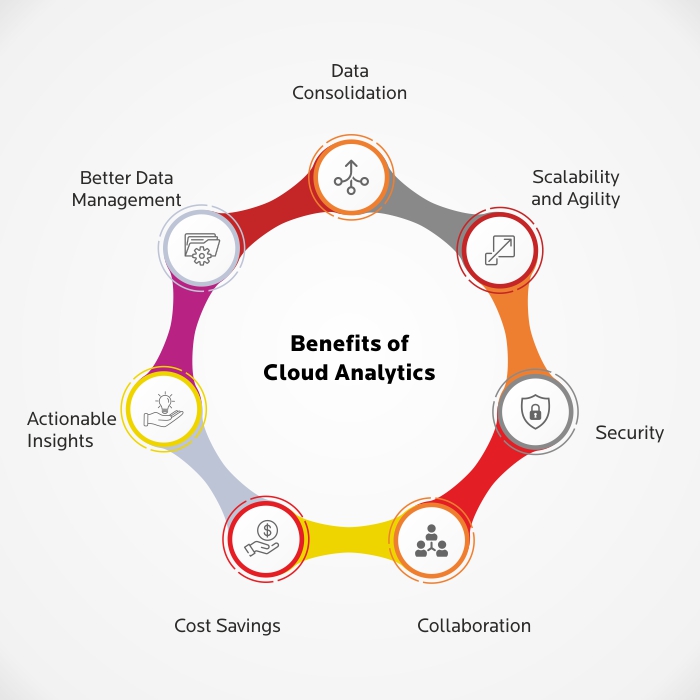 Benefits of Cloud Analytics