Cloud Adoption Journey Stages
There is no standard approach towards building a cloud-first organization. Every company's unique set of opportunities and business constraints means that the adoption stages will vary and often lie on a spectrum ranging from high centralization to high autonomy. The degree of autonomy with which independent business units can make technology decisions dictates the kind of
approach
that the enterprise follows. However, most executives seem to favor increased autonomy, and the approach taken by various enterprises seems to follow a certain pattern, the likes of which are detailed below.
Stay Ahead
Visit our Digital Transformation page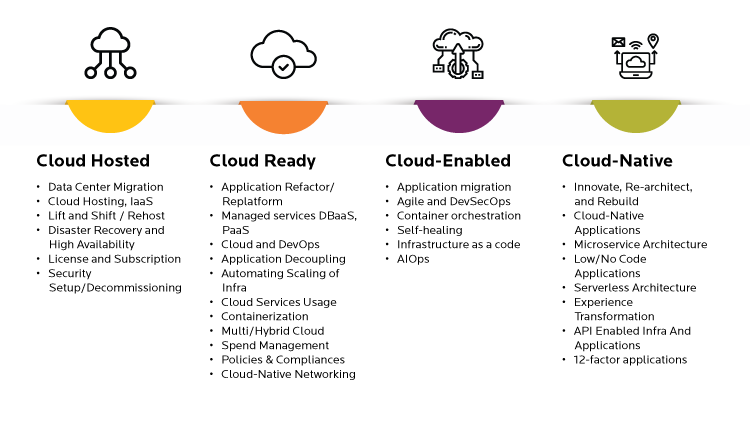 Cloud Adoption Journey Stages
Stage #1 – Cloud Hosted
Data Center Migration
Firms will need to identify the business case for migration and get stakeholder approvals, after which they will need to define the architecture and design requirements of the migration process. A successful migration would mean that a thorough assessment of the existing data center is made (to ensure a clean exit) and deciding on a suitable strategy for cloud deployment.
Cloud Hosting, IaaS
Under the IaaS model, the cloud provider delivers virtualized computing resources to the organization in question and manages IT infrastructure such as storage, servers, and networking resources.
Lift and Shift / Rehost
Lift-and-shift (also known as rehosting), refers to a practice that involves a rudimentary transfer of existing workloads straight to the cloud. Despite numerous calls to avoid such a practice and focus more on optimizing, such an approach serves as the perfect ground for experimentation.
Disaster Recovery and High Availability
Opting for a cloud solution means that firms will have to work with alternative means to ensure proper disaster recovery protocols and systems to ensure high availability that would work just as well as it did in the traditional sense. These are niggling concerns that many leading cloud providers address.
License and Subscription
The
perpetual licensing model
has been shown to limit growth and limit firms from delivering their customers' latest innovations and capabilities. Consequently, various firms are pivoting to a subscription-based model that lends itself to easy experimentation and flexibility for their customers. Companies would be well-advised to consider subscription-based models in the early stages of the cloud adoption journey.
Security Setup/Decommissioning
Cloud technologies necessitate a wholly different approach towards cybersecurity and entirely new data/risk management practices. Finally, decommissioning existing data centers can reveal a slew of surprises and challenges that must be dealt with effectively before moving on to a new solution.
Stage #2 – Cloud Ready
Application Refactor/ Replatform
Easing away from on-premise solutions would mean that companies will have to remediate legacy applications by refactoring them at the infrastructure and
application layers
.
Managed services DBaaS, PaaS
Faster time to market through improved productivity, standardization and data security is best achieved by opting for managed databases. Firms need not worry about building and maintaining the infrastructure associated with complex software processes.
Cloud and DevOps
DevOps is often the key to achieving IT infrastructure agility, and a proper linking of DevOps into a cloud environment would translate to increased business acceleration across the organization.
Application Decoupling
Ensuring that applications are independent of each other means that one application's potential issue doesn't end up taking the entire system out.
Automating Scaling of Infra
A careful assessment of business cases would enable firms to define expected utilization/traffic levels accordingly, enabling them to scale their cloud services following the situation.
Cloud Services Usage
Immediate use-cases for the cloud would be for testing and development, big data analytics, data storage, disaster recovery, and most importantly, to establish a hybrid cloud setup.
Containerization
An alternative to OS virtualization, containerization allows firms to work with programs and dependencies with isolated resource procedures. This means that developers can create and deploy applications with increased speed and security.
Multi/Hybrid Cloud
Firms are more likely to start with a hybrid cloud environment featuring at least one private cloud solution. They may later move towards a multi-cloud solution, which involves multiple public cloud providers.
Spend Management
Cloud can be an expensive affair if not planned properly, and firms will need to keep a watchful eye over the cloud strategy components to ensure the most bang-for-the-buck.
Policies & Compliances
Cloud usage almost always brings with it certain regulatory hurdles, a core of which is cloud compliance. Great care must be exercised to ensure that your organization is compliant with all the global regulations applicable to your specific setup.
Cloud-Native Networking
Under cloud-native networks, the underlying infrastructure will be shared by all clients, and necessary abstractions will have to be put in place to allow each client to have their own working spaces. Maintaining such a network would offload maintenance and scaling to the cloud provider, thereby allowing firms to focus on critical business objectives.