Why Is Legacy Apps Modernization Gaining Ground?
Legacy Apps Modernization programs are seeing an increase in demand in recent years. A report by
MarketsandMarkets
says the global application modernization services market size is expected to grow from USD 11.4 billion in 2020 to USD 24.8 billion by 2025, i.e., 16.8% CAGR.
Various factors are driving this demand, and one of the key-factors is COVID-19 restrictions that are still in place. As COVID-19 restrictions have forced employees to work from home, the organizations and businesses are struggling to have a smooth workflow. The obsolete programs and software in the organizations have given up under the immense pressure of increased app-based digital business transactions. This has forced organizations around the world to modernize their Legacy Apps.
Stay Ahead
Visit our Digital Transformation page
The COVID restrictions have also added to the already happening
shift of businesses from traditional servers
to cloud-based servers. This shift again has been a key driving factor of application modernization for a long time. According to Gartner, over 45% of what's spent on "system infrastructure, infrastructure software, application software, and business process outsourcing will shift from traditional solutions to the cloud" by 2024.
Other aspects of technological advancements, such as using DevOps, Cognitive artificial intelligence & machine learning, by the service providers to automate, quickly develop, test and release the software and apps, have improved the efficiency of the programs. Adapting the Microservices architecture in developing software has also effectively reduced the timeframe of overall application modernization programs. Thus encouraging the organizations to worry less and modernize more.
A study by
DataStax
in 2019 on 304 IT executives at large enterprises suggested that 100% of them were in the process of IT infrastructure modernization to keep up with the advancing world.
Reasons Behind Unsuccessful Cloud Application Modernization Programs?
Modernization of Legacy Apps is a critical process, as the entire organization depends on that software. Thus, any error in the process could lead to the failure of the Modernization Program.
The latest report from
Advanced
suggests over 74% of organizations that have attempted a legacy application system modernization project has been unsuccessful with it. The report titled:
2020 Mainframe Modernization Business Barometer
says one of the major reason behind such a huge percentage of failed attempts is "a disconnect of priorities between technical and leadership teams."
Some other key reasons behind unsuccessful Modernization Programs are:
Forcing your business to adapt to new software, rather than customizing the software for your business need.

Trying to replace the entire traditional software ecosystem with a new one at once, rather than gradually migrating

Designing for far-fetched flexibility, which ultimately leaves apps with no strength for core operational requirements.

Adopting a rigid software architecture that tends to be inflexible towards further evolution demands within the next five years.

Moving all-in with the Legacy Application modernization without proper Customer Experience assessment. Modernization of Legacy apps and the development of a software system requires consumer experience and feedback on every stage, lack of CX assessment can also lead to program failure.
Questions You Must Ask As You Build Your Application Modernization Strategy
To avoid any kind of failure in the Legacy Application Modernization program, organizations need to have a clear picture of the requirements, risks, and benefits involved. The following 11 Q&As will give you a better understanding of all the crucial aspects at play in the modernization program.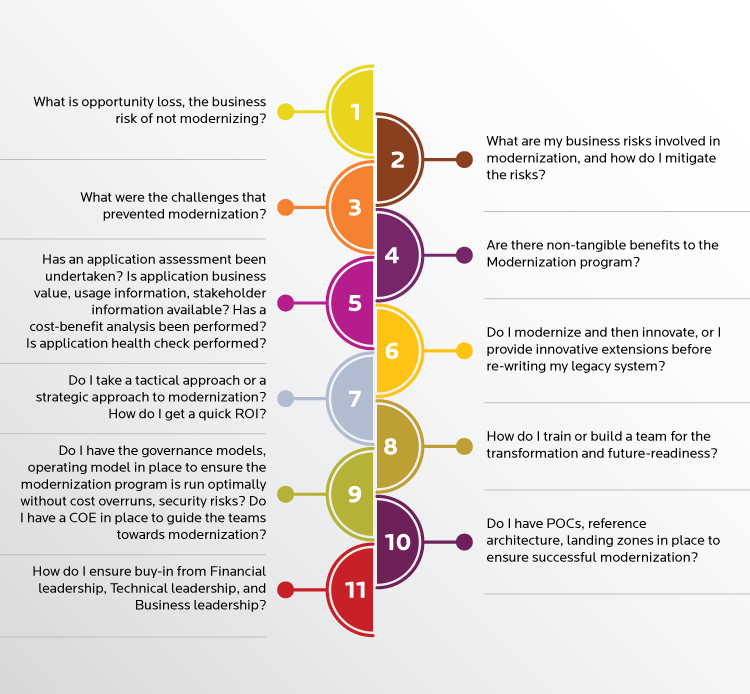 Top Questions to Ask While Building Your Cloud Application Modernization Strategy
1. What is opportunity loss, the business risk of not modernizing?
A research report published in 2018 by
Vanson Bourne
reports organizations opting to modernize their Legacy IT systems could see a 13% decline in their overall operational cost.
The same study also reports over a 14% potential annual revenue boost, which can translate to around $1 billion annually, for organizations with modernized legacy apps.
This means the organizations ignoring the requirements of their legacy application modernization will be operating at a higher cost. Such Organizations will eventually be compromising on scaling opportunities, suffering the increase in technical debt, and at last, not finding the operations sustainable.
However, operating at a higher cost is a fraction of the bigger picture. The demand for software capable of executing almost all the transactions digitally, and providing end-user experience through AI-enabled bots, has seen tremendous growth during the pandemic.
To keep up with the Digital Transformation, the organizations will need to facilitate a plethora of Intelligent Apps, Cognitive Services, and servers that can fulfill the demand of newer modes of user-engagement.
The outdated Legacy Apps will only work as a roadblock, leading to the loss of not many, but all the opportunities that could have been easily cashed upon.
2. What are my business risks involved in modernization, and how do I mitigate the risks?
Gartner Research
in 2019 suggested that businesses should beware of potential quality losses and cost factors while moving away from legacy apps. There are risks involved, like being in a skill deficiency state to operate modernized platforms, facing security issues on newer platforms, etcetera.
However, here are some of the ways recommended to mitigate the risks of modernization-
Modernization of legacy apps should be assessment-based, as per the requirements of business and industry, and not a general trend-based.

Methods like DevOps or Agile can be used to achieve an end-product based on the user experience and feedback.

The migration could take a long period. Thus, the total cost of transitioning should be considered beforehand.

Automating the app-development and testing process can allow a faster transition time and rule out possibilities of error.

The new platform should be investigated for the flexibility requirements of rapidly growing technology for a longer time horizon.
The steps taken to mitigate business risks during Modernization are best done in tune with your Legacy Apps Cloud Modernization service provider.
3. What were the challenges that prevented modernization?
2018 BMC Mainframe Survey
suggested thousands of global-scale companies still rely on 30 to 60 years old corporate software. While modernization has seen a boost in recent years, a few factors are acting as resistance.
However, organizations are beginning to realize that relying on outdated apps is a bigger risk and needs to be resolved with instant Legacy application modernization.
Cost is the biggest factor. Migrating to modern platforms requires investment in technology, skills, infrastructure, and other areas.

Organizations try to averse to the risk of operational failures in case the modernization of legacy apps doesn't go as planned.

Organizations usually sign long-term contracts with Data Centers to avail their services; the contracts then become a roadblock in the migration of servers and software.

The transition of a business from decades-old legacy apps to new cloud-based servers and modernized apps can create struggles for the fundamental ways of doing business.

Other challenges like region-specific requirements and restrictions, concerns regarding security on newer platforms, also delay the modernization.