At the heart of application modernization are novel frameworks of creating business value through digital spend. Application modernization uses APIs (which allow independent functionalities to interact with each other) and containerization (which turn capabilities into platform-agnostic services) and involves re-platforming, re-hosting, and re-factoring, restructuring, and sometimes, rewriting the application. However, this process must be carried out in a systematic manner that helps extract maximal business value from the transformation with the least degree of shock.
The Need for Cloud Application Modernization
Over 70-80% of CIOs today report that their IT budgets are tied to legacy spends - moreover, legacy systems consume almost 74% of the IT spend,
according to a study
. At the same time, evolving digital behaviors of customers and the introduction of viable, cheaper, self-sustaining infrastructure models that are better suited to today's pace of technological change are the primary drivers pushing application modernization up the CIO's list of priorities.
Stay Ahead
Visit our Digital Transformation page
According to a McKinsey
study, public cloud adoption alone can reduce the IT overheads by 36-40% when migrating from traditional IT frameworks. However, application modernization brings more than cost benefits - it frees up the IT budget to make space for innovating and augmenting the existing application portfolio and exploring new avenues of business value. Lastly, application modernization brings greater agility, flexibility, and transparency while opening operations up to the benefits of modern technologies like AI, DevSecOps, intelligent automation, IoT, etc.
Key Steps to Building the Cloud Application Modernization Roadmap
Beyond the upfront investments after creating a buy-in, application modernization entails a number of considerations to be made by the CIOs, and more importantly, a game plan to manage the massive amount of change that comes with such a large-scale transformation. However, moving away from the sunk-costs of legacy IT can help enterprises take on a new trajectory of profitability and value. Here are four essential steps to a successful application modernization roadmap.
Step # 1 Application Migration Portfolio Assessment
Enterprises must begin with an established approach to map their existing application portfolio along the dimensions of migration/modernization complexity and the business value associated with it. This process might require some to rationalize their portfolio before attempting modernization. At the assessment stage, CIOs must spend time to map the specifics of their applications inside-out: Is the application (or its parts) ready for cloud deployment and/or integrations?
How does the workload vary by time and geographies? What are the current architectural and performance considerations, and how do they stand against modern paradigms and benchmarks of business impact creation? What is the net value delivered by the portfolio, and how satisfied are the customers? In parallel, if there are upcoming version releases and upgrades along with the continuous improvement strategy, then how will the modernization trajectory overlap with it, without causing tectonic changes? These are some of the answers that must be sought at the assessment stage.
Step # 2 Shortlist Your Modernization Options
Once an assessment has been made and business services identified, CIOs must shortlist their modernization options, or the 6 Re's of application modernization - re-hosting, re-platforming, re-factoring, rearchitecting, rebuilding and replacing, ranked from lowest to highest degree of transformational change that fuels these approaches. For example, if a service was deployed a decade ago when smartphone penetration was low, re-platforming might become an essential part of the application modernization roadmap. On the other hand, rearchitecting will make more sense if a cloud-native deployment is on the table. Encapsulation is another low-effort approach to modernization - where a functionality is simply packaged and extended via an API.
Each of these options will accordingly entail a corresponding upskilling strategy to maintain the target operating model's application, in conjunction to decoupling - a process of breaking down a monolithic application and identifying constituent capabilities and services that facilitate various actions in the business' digital value chain. Decoupling also includes the practice of solving dependencies of business services from the perspective of cost and performance - which also raises the question of which capabilities and dependencies to keep coupled in the target architecture. A good practice
recommended by Google
is to decouple dependencies of services that scale up frequently - and distribute replicas of a system-critical low-latency service across the globe.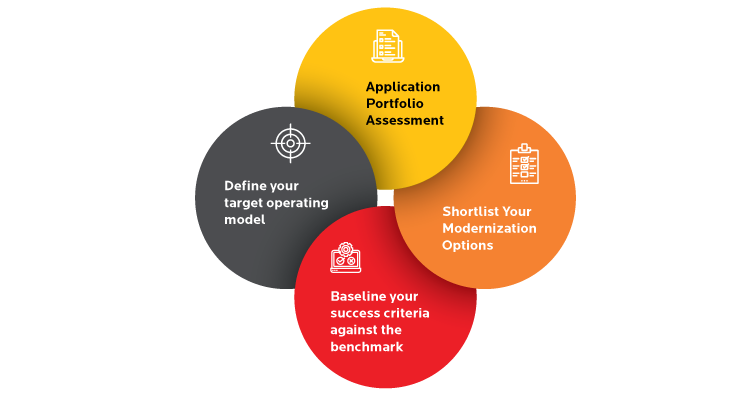 Cloud Application Modernization Roadmap Stages