Today, India is at an inflexion point where technology redefines business models, and manufacturing is no exception. Many new digital technologies will pioneer the manufacturing industry backed by the digital-first approaches.
Trends of the future
As the manufacturing industry reinforces its path towards digitalisation, trends like the adoption of digital twins, 3D Printing, AI, Machine Learning, IoT and AR/VR are witnessing faster acceptance and implementation than ever before. A transformational vision towards Industry 4.0 and smart factories among the Indian manufacturing ecosystem will stimulate growth required for this industry and provide the impetus to stand the test of times.
As a result of the pandemic, many manufacturers needed to shift to a contactless, digital model and engage with their end customers digitally. Manufacturers needed to install business solutions that create superior digital experiences for their customers and ecosystem.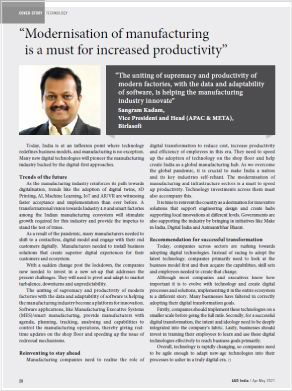 Refer Page 30