Such a scenario demands organizations to reinvent their working style and introduce a Hybrid Working Culture, which brings the best of both worlds to ensure a smooth transition and pave the way for the 'Future of Work', which is more employee-centric.
With offices being shut for more than 18 months globally due to the nationwide lockdowns being announced by countries, the 'Work from Home' has helmed the work reigns. While there have been mixed reviews about such work culture, there's no denying the fact that the COVID-19 pandemic has transformed the global working models, forever. The IT industry, which was the frontrunner in taking the initiative of 'Work from Home,' is also set to be probably the last one to Resume 'Work from Office.'
It is noteworthy to mention here that while employees are longing for a social connection, the concern of concurrent waves of COVID-19 is still hampering the decisions of employers to resume physical presence in the offices till the time it can be avoided. The IT industry has also been one of the best performing industries during the pandemic on the back of innovative technological tools available with them to support their operations. The shift in positive attitudes toward remote work was evident during a recent PwC study. It highlighted that 83% of employers now say the shift to remote work has succeeded their company.
Despite the pandemic, the IT industry is witnessing increased demand for digital solutions to adopt hybrid working models and ensure business continuity.
The growth factors for the IT industry remain resilience, employee centricity approach, business continuity, adoption of technology, empathetic leadership, etc., that have been the backbone of every other industry. A hybrid workplace perfectly blends the in-person and remote experiences.
Empowering Work-life Balance
The pandemic has driven a significant shift in managing work-life balance, and this aspect will set the tone for the shape of things to happen. As per the hybrid working model, the future workplace can be anywhere and at any time where the traditional office would function as the hub of social interaction, collaboration, and innovation. It will also entail two other significant drivers of sustained human performance – empathy and well-being.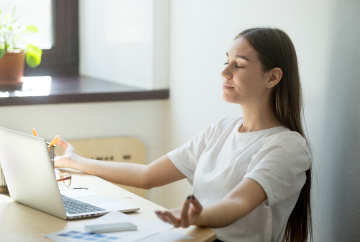 There needs to be greater thrust on employees' health, wellness, and mental well-being, including a recognition of the health footprint left by the pandemic.
And employers have to take the lead in ensuring the same and offer them a comforting working environment that will eventually result in productivity enhancement.