The manufacturing sector constitutes a major chunk of the global economy and is also responsible for affecting advancements across other industries. However, manufacturing workers have historically been subject to several workplace risks, and therefore, employee safety has been a key focus for manufacturers globally. Safety shoes were invented around the 1940s to prevent foot injuries, and it was in the 1930s when head safety programs were introduced.
The Occupational Safety and Health Act (OSHA) was introduced in the 1970s, and apart from detailing sector-wise guidelines, the regulation necessitates employers to provide a safe workspace free from all recognizable risks to all workers. Violations of such workspace safety regulations cost steep in terms of loss of lives, injuries and reputation and attract smaller costs, like fines (although they amount to hundreds of thousands of dollars), legal fees, production delays and risks to future business.
Stay Ahead
Visit our Manufacturing page
Today, however, the risk is perceived very differently in manufacturing environments – at least in some of the safest workspaces of the world. With evolving use cases of technologies, like cloud computing, Internet of Things (IoT), Artificial Intelligence (AI), Machine Learning (ML), robotics & Augmented/ Virtual Reality (AR/VR), a number of workspace hazards can be prevented before they occur. Such a paradigm of employee safety has been long in the making and will pave the way for a people-first approach in one of the most critical industries today.
Employee Safety Considerations in Manufacturing Environments
In the manufacturing industry, production facilities and warehouses are replete with a number of factors that pose a risk to the employees working in such environments. Here are a few of them: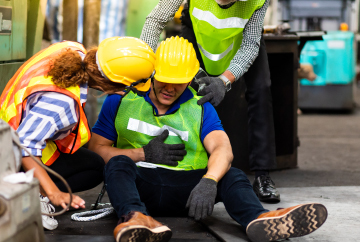 Falls and Slips: Falls and slips are among the top three causes of injuries, off-time and deaths in manufacturing and account for the highest number of OSHA violations in the US. Such incidents can occur from working without adequate gear, unmonitored high points and lack of oversight or warnings.
Chemical Hazards: A number of chemicals used in manufacturing facilities can harm workers in various ways – key risks include respiratory damage from prolonged inhalation, injuries from skin exposure and long-term health risks from repeated exposure without protective equipment like industry-grade respirators.
Electrical Hazards: Injuries and deaths from electrical shocks are caused by dispatching repairmen without overseeing electric controls, ignoring safety guidelines while carrying out electrical repairs or lack of training.
Heavy Machinery: Operating heavy machinery subject's workers to the risk of getting crushed, pinched or risking other workers' safety. Therefore, it is not surprising that nearly half of all amputations occur in the manufacturing sector.
Exposure Risks: It is not only chemicals that bring risks of exposure – loud sounds from the machinery can cause deafness and tinnitus, whereas operating welding machinery without protective gear can result in partial or complete blindness over time. Exposure to fast-alternating temperatures also poses health risks.
While some of these risks can be prevented with a safety-first culture, manufacturers should be proactive in facilitating the safest possible environment for workers in an industry replete with such risk factors.
Today, most of these risks can be minimized by using the right technologies and effecting a people-first mindset across the organization. Read on to see how.
People-First: 11 Levers Boosting Employee Safety
Here are the 11 levers to boost employee safety, minimize risks and prevent injuries and fatalities in the manufacturing environment of today.