Despite these market growth factors, growing revenues steadily and sustainably is a challenge for a capital-intensive industry like cement manufacturing.
Cement manufacturers struggle to generate returns more significant than their investments because of:
Unanticipated variable costs (raw material, energy, freight)

Fluctuations in demand

Volatile supply chains

Significant wastage from inefficient material consumption or quality control issues
With rising pressure to reduce CO2 emissions and make manufacturing processes more environment-friendly, the challenge becomes more complex. While the industry will always be capital intensive, it's possible to increase profit margins and grow revenue by:
Optimizing costs

Increasing operational efficiency and switching to greener solutions

Mitigating business risks
That's where a deep understanding of market dynamics in real-time can help. Cement manufacturers can invest in business planning and make informed decisions on budget allocation by:
Stay Ahead
Visit our building and construction materials page
Spotting market trends, rise in urbanization, or changes in supply chains

Analyzing and interpreting any shifts in the market or consumer expectations

Insulating themselves from market disruptions while capitalizing on upcoming opportunitiess
For instance, if market trends indicate an upcoming infrastructure boom, cement manufacturers should increase their production capacity and invest in marketing campaigns to build brand recognition. When the boom happens, customers will opt for the most popular brand to sustain large infrastructure projects.
Such planning and preparation will give cement manufacturers an edge against the competition and make their businesses less susceptible to disruptions like pandemics or economic downturns.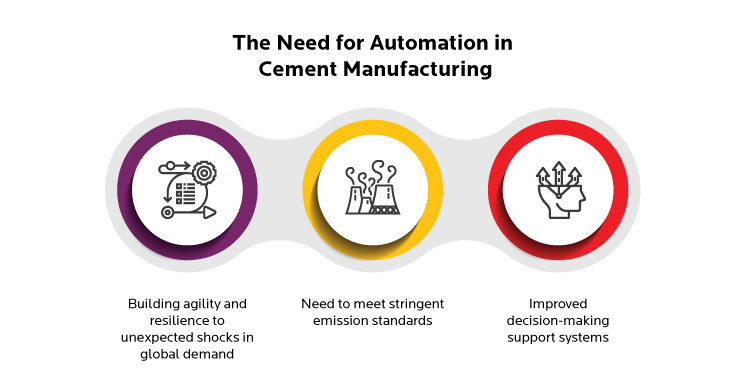 The need for automation in cement manufacturing
-->
Cost Optimization: Top Priority For Cement Manufacturers In Business Planning
The first step to widen profit margins is saving costs. The enormous costs involve raw material, power consumption, and freight costs, among others. Before we explore what to optimize, let's break down the costs incurred.
Typical Costs Incurred By Cement Manufacturers
Raw Material
Raw material, mainly limestone, is one of the highest costs in cement manufacturing. Since limestone is bulky and cannot be transported over long distances without severely spiking the costs involved, most cement plants are near limestone quarries. Other raw materials like gypsum, slag, and fly ash are also needed to manufacture blended cement, and these components are transported to the manufacturing plant from different locations.
Conventional fossil fuels like pet coke, HSD (diesel) oil, and coal that account for
80% of the fuels
used in cement kilns, also contribute towards raw material costs.
Switching to sourcing raw materials from industrial waste or natural pozzolanic materials will cut costs while reducing its carbon footprint
Power
After sourcing raw materials, the next step is to prepare them for cement kilns, an energy-intensive process. Thermal power (fueled by coal) is still widely used to fire up cement kilns. Besides coal, other fossil fuels, as mentioned above (diesel, pet coke, lignite), are required to grind the raw materials.
Depending on the manufacturing process, the power consumption varies throughout the day. Also, since cement manufacturing is a continuous process, power outages can adversely affect production and reduce its efficiency.
Several manufacturers have switched to on-site power sources to reduce their reliance on grid power maintained by conventional electricity generating plants. Maintaining these power plants is yet another considerable expense.
Investing in alternative fuel sources can make their power consumption greener, more efficient, and cost-effective in the long run.
Freight
Since cement manufacturing plants are closer to limestone quarries in industrial zones, they're far from the end-user markets.
Transporting large volumes of cement over long distances is a considerable expense. Factoring in other transportation costs such as tolls, fuel costs, and handling charges only increases the total costs.
Outsourcing the transportation aspect of cement manufacturing can be an economical alternative to owning the vehicles (and consequently, maintaining them and the drivers).
Others
Other expenses include administration costs, repair and maintenance charges, employee costs, spare part procurement, and maintenance. These can eat up around
15-20%
of the total revenue from sales.