Preventing unexpected downtime and turning complex functionality simpler, this microservice architecture is relentless even in the face of application outages.
Strategic modernization of lending technology and associated platform ecosystem
Enabled by new technology and digital tools, the last couple of years have opened up commercial lending opportunities exhibited through a steady rise in neobanks or digital-only banks.
Open banking
is a promising theme and most likely is the New Future of the lending economy. It is the concept where banks are transforming through APIfication, allowing third-party Application Programming Interfaces (APIs) to access their data and processes.
Banks are turning to flexible microservices architecture, replacing monolithic applications. The industry is going through multiple transformations that are revolutionizing the entire lending process for businesses.
Stay Ahead
Visit our Digital Lending and Leasing page
Modern lenders are deepening their understanding of customers by conducting deeper analysis into their cash flows and operating behaviors - real-time. API – driven processes are integrated, delivering significant efficiencies across KYC and AML.
Identification of strategic use cases for specific outcomes
As banks and lending firms foray into the next phase of ultra-digitalization, advancements in
Artificial Intelligence (AI)
and related technologies such as ML, OCR, NLP, and NLG have made this digitalization feasible at a larger scale. Several companies are putting in double the investments in next-gen loan processing and organization. By partnering with the right vendors and application experts, enterprises develop homegrown solutions and redefine the landscape in its entirety.
Organizations are streamlining processes by deploying phase-wise solutions through careful study and identifying strategic use cases for specific objectives that deliver specific outcomes.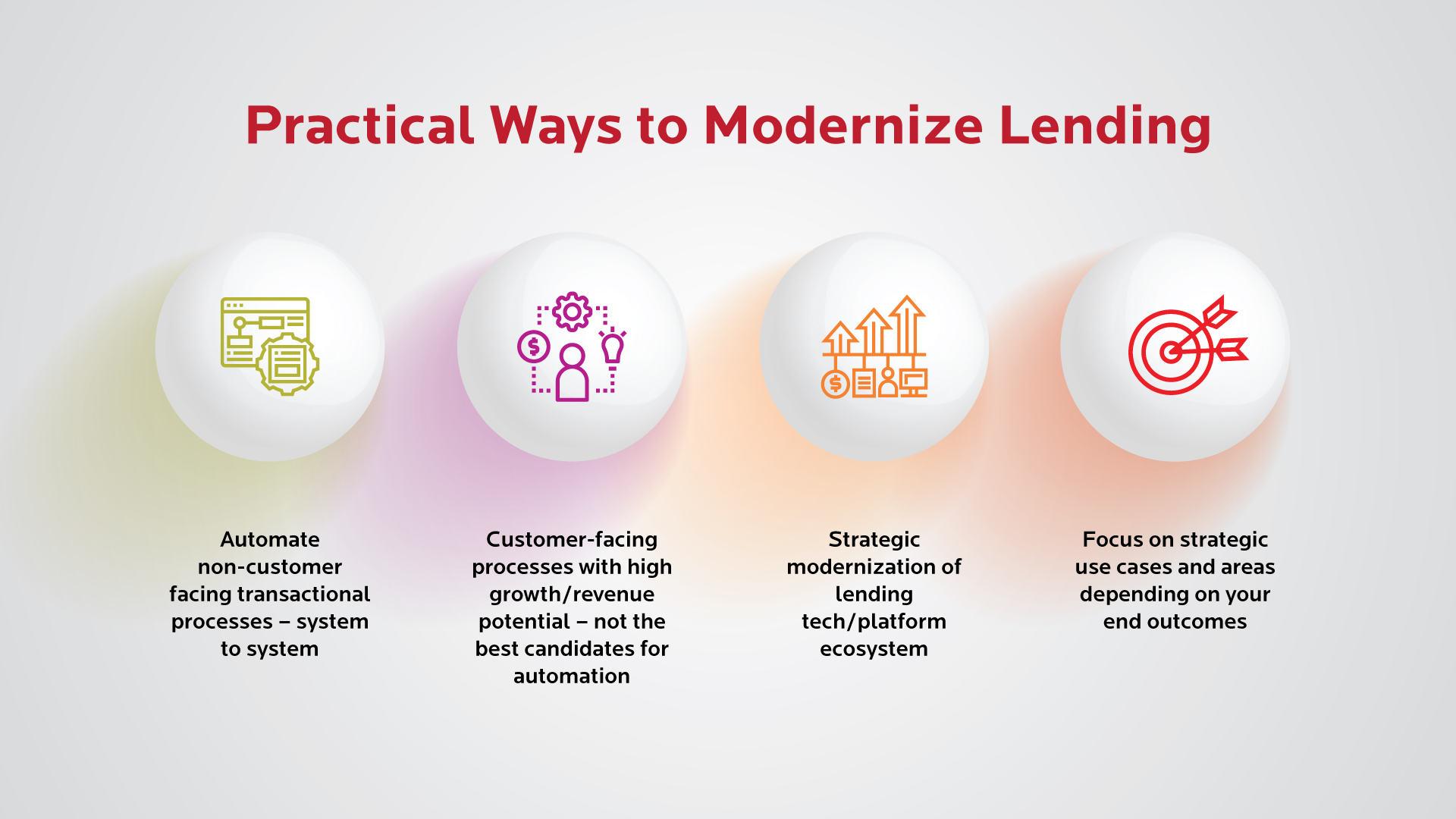 Practical Ways To Modernize Lending
Top Use Cases in Lending Modernization
AI-led cross-selling as per customer profiling
When AI-enabled innovative solutions are integrated into the system, it captures data points across the entire customer journey, starting from
client onboarding
, KYC to advanced and automated underwriting disbursal and timely payment of loan collections. Big Data and Advanced Analytics play a significant role in customer segmentation and profiling, aligning the customer onboarding process to the business goals. Personalized experiences are curated with the help of these technologies through data collection, which further helps identify opportunities for cross-selling other products and services. Advanced Analytics helps banks to remediate gaps in the onboarding processes and mend them right away. For instance, if a customer is diligent in making timely payments and loyal to the business, banks can award them loyalty points and approach them with other products.
Making a customer journey through all the touchpoints is the essence of digitization and a significant point of differentiation.
Credit limit extensions using credit data profiling
Credit companies regularly deal with risks, and credit decisions act as the shield, supposed to separate the bad risk from the business equation. Traditionally, credit companies used complex statistical models that considered multiple variables according to a credit applicant's profile to assign an internal score. This associates the degree of risk to a loan representing the company's business rules in the real world. Credit decisions, when done manually, demands extensive manual hours and fall short of fulfilling the business needs to operate in today's environment.
Predictive data mining models, artificial intelligence credit scoring, and automation have been game-changers. The digital lending industry pioneers leverage the structured and unstructured data from customer's digital footprints to infer more details with machine learning for credit scoring using techniques like random forests, support vector machines, ensemble learning, hybrid genetic algorithms, etc. Process automation is a huge step-up for collection, warehousing, processing, and decisions for end-to-end loan offering and credit limit extensions.
Underwriting automation
To bring accuracy and precision into the system, banks can enhance rule-based underwriting with machine learning models. These ML models continuously upgrade themselves as they assess customer data along with their creditworthiness. By monitoring this learning process, the bank can refine these models and better control the credit decision methods.
AI models can help lenders collect more data from physical documents and data repositories that were previously unavailable for data mining. Making the right credit decisions is all about having access to the right data to make those decisions. That's how AI and automation-led lending are going to transform lending.
Automation augments this decision process. Underwriters can free themselves from tedious sub-processes like evaluating credit risk scores, reviewing all applications with the same effort, and not utilizing the past data for quicker decision-making. The underwriters can rework the rules and update the models to ensure a balanced mix of human and machine intervention.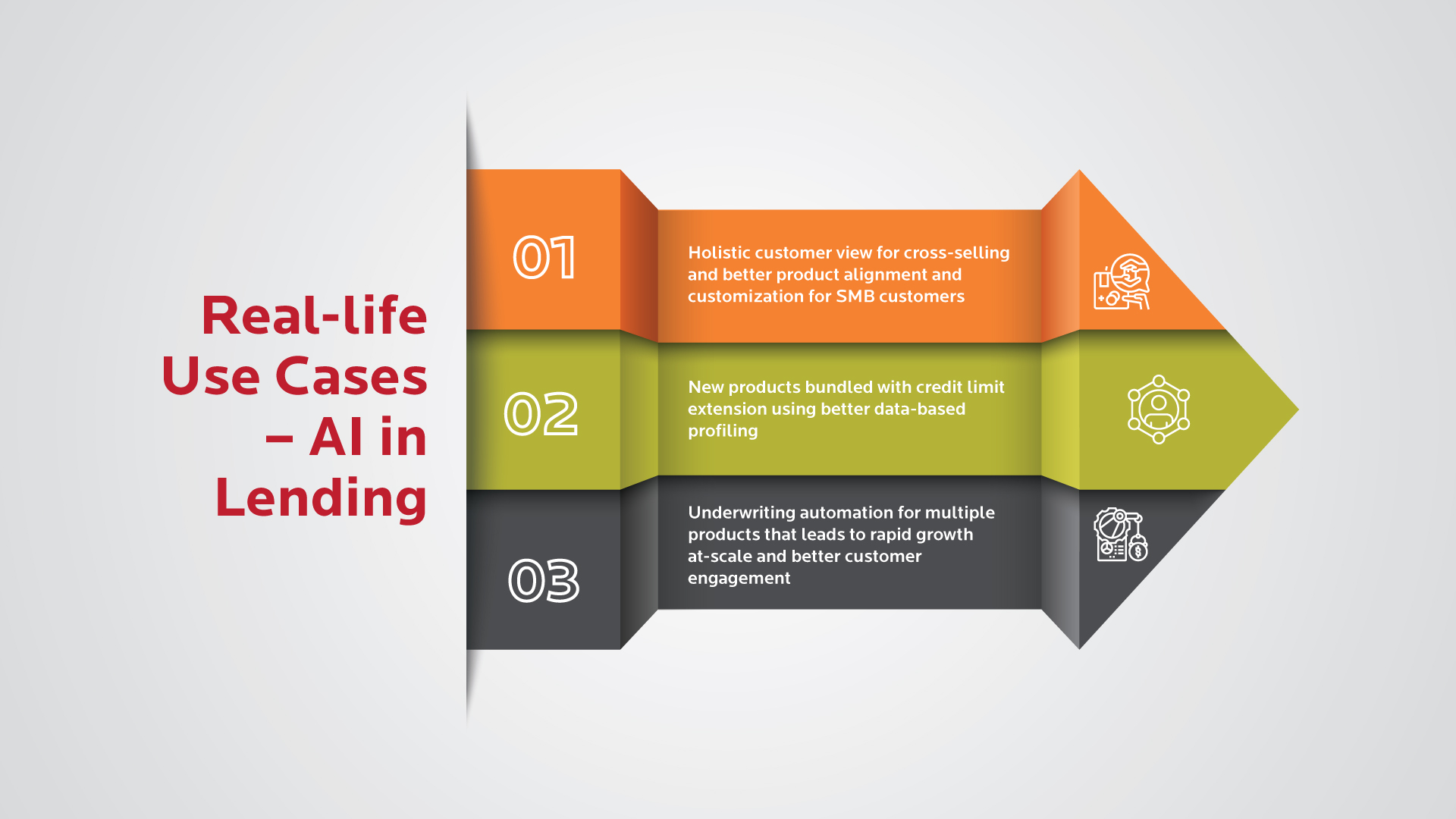 Real-life Use Cases - AI in Lending