Countering disruption with resilience and agility
While some industries have figured out ways to continue their operations by activating work-from-home (WFH) programs, for sectors like manufacturing, hospitality, retail, construction, WFH is not a viable option. 65% of the CXO executives believe that no field employees will be able to WFH indefinitely, as per a
recent survey by McKinsey
. The same study states that the executives expect 80% of their employees to be back in the office by September of this year.
The long and short of it is that organizations need to go back to the drawing board and work on building and executing safe return-to-work programs. However, any such "return-to-work" strategy must be based on the following principles at the core:
Containing the spread - Nations continue to struggle with controlling this contagion; some nations are now seeing a second wave of the spread. Albeit social distancing is the new normal, field personnel across all industries work close to each other, which raises the risk of spread. This is a concern for the environment, health & safety (EHS), and facility managers. What furthers adds to the problem is that 40% of COVID-19 spread happens before a person develops symptoms according to the US CDC. The threat of proliferation from asymptomatic patients is massive. Hence, they need to activate all programs that help them stop the spread.
An assurance on safety and revving up employee confidence – As organizations resume their business, they need to assure their stakeholders of the vital safety measures to boost their confidence and morale. This requires them to develop processes and systems that ensure prevention of the spread, building safety protocols for early detection, monitoring and enforcing social distancing, and responding faster and effectively.
Adhering to regulations and compliance standards - In response to COVID-19, governments are laying out health & safety laws to define business operations. For instance, the UK government has passed The Health Protection (Coronavirus) Regulations 2020, which mandates concrete measures for employee safety. In the US, OSHA has issued guidance for preparing workplaces for COVID-19. All of this must factor into an organization's compliance and risk management blueprint in the COVID world.
Need for speed and digital adoption to combat the pandemic
Adopting and adhering to the principles mentioned above, will require the organizations to be open and agile and embrace technology with a heightened sense of urgency. The good news is that some have already taken swift actions on building strategic digital programs for resuming operations. Organizations have adopted and executed digital programs that were mandated to be closed in five years in flat eight weeks,
as per McKinsey
. That's the level of paradigm shift the marketplace is witnessing.
While there are numerous ways in which digital technologies such as image analytics, artificial intelligence, internet of things, etc. are helping enhance the health and safety quotient of a workplace, particularly with regards to COVID-19, a return-to-work plan must cater to the following four tenets and the organizations must ensure they are technologically equipped to address each of them: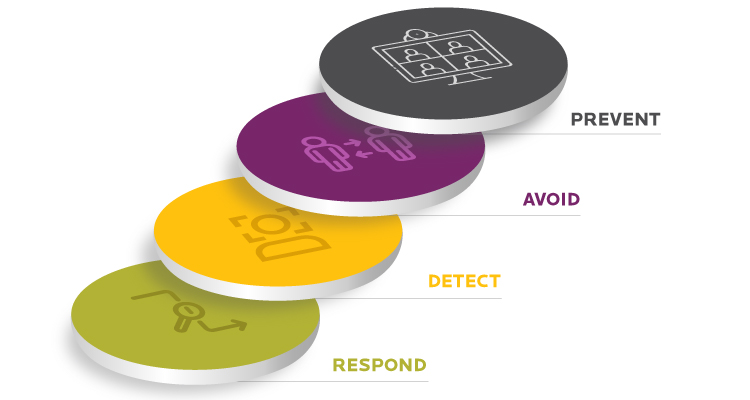 Prevent
This is the first line of defense for any organization, and it worked well during the initial phase of the pandemic. The adoption of remote collaboration platforms such as Microsoft Teams helped organizations mitigate potential in-person interactions, as they managed business continuity. While returning to work seems inevitable now, the organizations should not rush into it. Having fewer people in a space lowers the risk significantly,
says
an epidemiologist at the University of California, San Francisco. Moreover, the offices' real estates, especially in the subcontinent, are structurally not designed to support social distancing.
Therefore, in addition to adopting a staggered approach to opening offices, the organizations must accelerate investments on Digital Workplace infrastructure and Smart Buildings to balance safety with productivity.
Avoid
Any organization planning to reopen its offices must necessarily invest in technologies to facilitate contactless operations. There are multiple options available to choose from, such as facial recognition, voice sensing, and gesture sensing (some of which even come bundled with advanced thermal screening cameras). Additionally, compliance with the occupancy-levels in facilities and enforcing social distancing norms as per local government regulations is paramount to avoid the risk of spread. Several proximity control technologies can be leveraged to implement these norms and to block access to non-compliant or at-risk personnel.