This was primarily towards the objective of observance of social distancing in the efforts to contain the virus. From remote care to research and development (R&D) initiatives of drug development and discovery, monitoring and evaluating standards of therapeutic care, and manufacturing medical devices, digitization is truly transforming healthcare in the truest sense of the term.
The sheer speed at which innovations are happening in medical devices manufacturing is one to be reckoned with.
Manufacturers are cozying up to additive manufacturing (AM) to optimize the design of medical implants and instruments. This is essentially transforming entire manufacturing workflows through the end-to-end overhaul of legacy elements, the replacement of which is fulfilled using new-age tools and technologies, software applications, and smart services.
This, in effect, bears business benefits in the form of reduced manual efforts, a lesser number of processing mandates, an overall reduction in the cost of manufacturing.
Scaling Potential, Navigating for Growth
Let us delve deeper into the mapping of these disruptions and the potential gains that the medical devices industry seeks to gain from the adoption of digitization:
Upgrade Process Capacity
Complexities in shop floor management arising out of the production of small batches, mixed orders, and rising demands of medical devices are necessitating manufacturers to embrace Industry 4.0.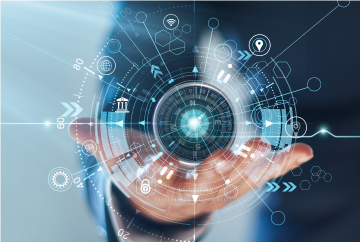 Equipped with the right automation tools, they can solve these complexities while simultaneously increasing production capacity and operational efficiency.
At the core of Industry 4.0 lies the adoption of a new-age Manufacturing Execution System (MES), a monitoring and evaluation process that can help manufacturers address quality issues and regulatory compliances.
On the flip side of Industry 4.0 is the implementation of Quality 4.0, which essentially entails using smart tools to complement legacy systems across the value chain, viz. the seamless integration of MES, Enterprise Resource Planning (ERP), and Product Lifecycle Management (PLM).
As a corollary to Industry 4.0 and Quality 4.0, medical device manufacturers can analyze operational data, proactively manage risks, and pre-empt quality issues by analyzing real-time data across the value chain in a unified manner.
Stay Ahead
Visit our Life Sciences & Healthcare page