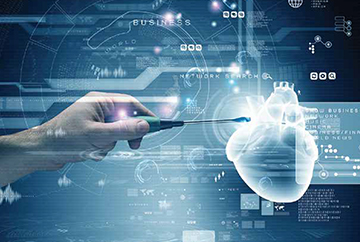 The article analyses the digital disruption in the medtech manufacturing industry, the boost required for the digital transformation and how medtech manufacturers can enable patient-centric digital adoption while ensuring that stakeholder value is met as well.
The COVID pandemic has tested the manufacturing sector with some of the most challenging macro-environment variables, and the medtech device manufacturing industry is no different. In fact, the medtech device manufacturing subsector is under pressure from more than a few sources of disruptions, including pandemic constraints on on-site personnel availability, tightening regulatory policies, evolving cybersecurity threats, demand & supply fluctuations and significant supply chain rearrangements. However, leading players in the industry are tackling these challenges by setting their digital priorities right. For those still in the game, an accelerated digital transformation strategy is the key to wading through the disruption and emerging as a successful disruptor beyond the pandemic.
Mapping the pandemic disruptions
While some pandemic-related challenges were amplified as a result of legacy problems, a number of critical insights emerged too: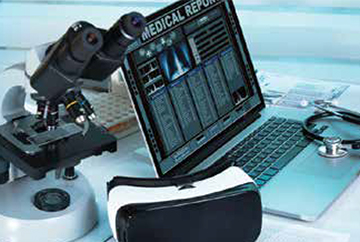 Leading medtech manufacturers are not only embedding AI capabilities in devices but also innovating the enterprise from within
Travel restrictions and healthcare provider capacity constraints have led to over 50% decrease in elective procedures, reduced visits to hospitals and patients deferring critical care procedures. Moreover, mobility restrictions have also impacted logistics, delivery timelines, production cycles and capacity.

Macro-environmental variables, such as fluctuating supply & demand curves across product segments, changing regulatory policies across geographies, evolving data security considerations of software-enabled medical devices and cost pressures driven by value-based healthcare initiatives, are creating high complexity challenges for customer engagement, production planning, execution & distribution, R&D lifecycles, enterprise resource management, cost and revenue management on formulating effective short- and long-term strategies for the enterprise However, to lead through the pandemic and beyond, businesses must not only recognise these challenges but also quickly and effectively respond to them.
Navigating the challenges: Accelerate digital transformation
The pandemic has not only given a new set of challenges for the medtech device manufacturing industry but also new baselines to conduct their operations amidst. To navigate in this new normal, enterprises must accelerate digital adoption across lines of business. Here are a few reasons why a digital-first strategy is a key to thriving in and beyond this new normal:
Digital enables an access-anywhere, anytime approach to enterprise operations and insights beyond the production floor. As medtech professionals are inherently exposed to a greater risk until the pandemic fades, sustaining remote operations will be essential for survival.

Digital saves costs and enables granular visibility of spend and resources across processes & functions. This visibility and centralised control will form the centrepiece of strategic consolidation and business realignment, enable a deeper understanding of a product's real-world costs and effectiveness, improve customer (HCP and patient) experience, build a resilient & efficient supply chain and anticipate the demand fluctuations across product segments.
Stay Ahead
Visit our Life Sciences page
Digital, specifically cloud, simplifies infrastructure management, efficiently adapts to computing requirement peaks & valleys and delivers analytics innovation continuously to enable insights to provide transparency, productivity and agility across the enterprise. Leading through the new normal will require enterprises to rethink compliance, product innovation and development, and adopt new production mechanisms to reduce costs and increase accessibility.
A digitally-reinvented enterprise will form the backbone of enterprise operations in the new normal, where patientcentricity, resiliency and hyper-agility will be commonplace.
Key priorities for the new normal
However, in order to navigate the pandemic landscape, a digital-first strategy must encapsulate a thoughtful prioritisation of digital investments in line with targeted outcomes. These are some of the key areas that medtech device manufacturers should focus on now:
Embracing cloud and fast: Cloud-based solutions not only simplify the enterprise infrastructure but also redefine enterprise intelligence across the lines of business. Cloud solutions support seamless integrations across core enterprise platforms, like digital supply networks, PLM, ERP, CRM, and e-Commerce, making seamless collaboration across the extended enterprise possible and maximally effective. According to a report, over 90% of the global enterprises report using cloud computing in some part of their business.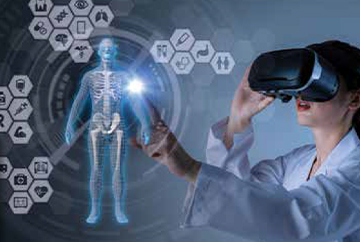 Virtual representation of a real-world product or asset is called a digital twin. Digital twins help manufacturers to improve understanding of the product and allow businesses to experiment with the product design that may enhance asset performance.
End-to-end intelligent automation: Cloud not only enables seamless integration but also forms the groundwork for intelligent automation of end-to-end processes, from demand-sensing to production and logistics at high efficiency
Introducing robotics automation: Industry 4.0 has put robots to work and has been integrated into every facet of medical device manufacturing. Robotics is maximising speed and efficiency. Due to the pandemic, there is a greater need to reduce the human, machine and product interaction which calls for robotics automation in medical device manufacturing.