Defining Customer Experience, its challenges and importance for the Business
A customer interacts with a brand during their journey through various channels and devices. During this journey, the customer may engage with the brand several times from browsing for product information, making a purchase decision, evaluating product usage, requesting a repair or upgrade service etc. Customer Experience is an aggregation of thoughts, sentiment, feedback and beliefs that a customer accumulates about a brand during this journey. A customer will be loyal and willing to pay a premium to those brands that serve the best customer experience. Due to the proliferation of social media, mobile and technology disruptors like IoT, Artificial Intelligence (AI), Machine Learning (Machine Learning), etc., the competition among brands is unprecedented. Blue Nile Research found that more than 70% of consumers surveyed use three or more channels to research and make a purchase (in-store, web channel, mobile app, social media, community, chat-bot, kiosk, email, SMS).[1] Delivering a consistent experience across all channels is paramount for a sustainable business. According to Watermark Consulting, customer experience leaders outperformed customer experience laggards by 120% based on cumulative stock return over 11-year period.[2]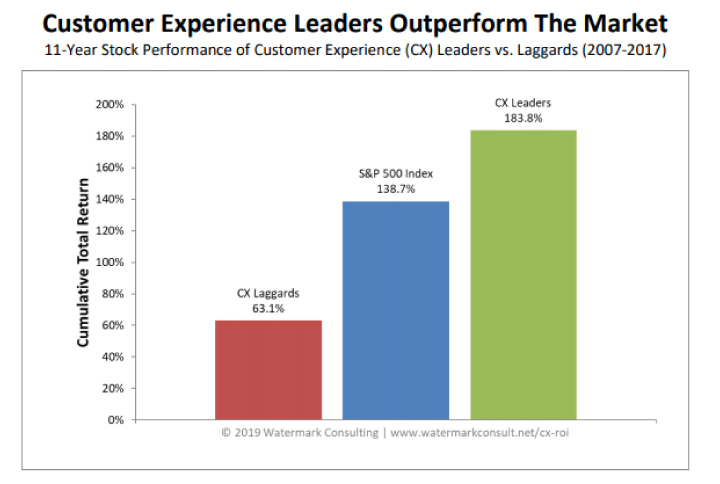 Customer Journey Mapping - A Blue Print for Success
Best-in-class companies optimize the entire customer journey, not just touchpoints. Every single interaction with a customer is an opportunity for brands to gain or lose brand credibility. Understanding your customer at every touchpoint is key to delivering a differentiated experience. Before designing the customer experience solution, it is highly recommended to create a blueprint of all possible customer interactions, activities and subsequent actions – a customer journey map. This mapping exercise helps uncover potential customer pain points to turn them into opportunities to deliver engaging experience and enhance propensity to buy more and offer cross selling and/or upselling. The customer experience solution should be designed to capture detailed feedback including sentiment, interests, suggestions throughout the customer journey. These interactive details help businesses to better understand their customers' buying behaviors and interests.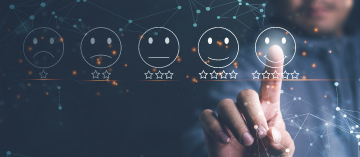 SAP CX Webinar Series Part 1: Gain Real-Time Insight and Build a Seamless Customer Experience with Personalized, Frictionless Commerce
With deeper insights of their current customers' interests, organizations improve key success factors. Loyal customers cost less to serve, attract and deliver more recommendations than prospects customers. An increase in customer retention of 5% can increase profits by as much as 95%.[2] A small tweak in a service offering have large potential to gain new customers and increase customer retention while contributing significantly to the bottom line. By soliciting customer feedback at key interactions during the customer journey, businesses gain more insight on customer behavior. With advanced analytics capabilities, customer-experience leaders gain rapid insights [3] to build customer loyalty and make employees happier. They also achieve revenue gains of 5 to 10 percent while reducing costs by 15 to 25 percent within two or three years.
COVID-19 impact on Customer Experience
With the Coronavirus pandemic, B2B customers' buying habits and interaction expectations have changed quickly. McKinsey & Company [4] published a research paper and noted these three major changes:
Spend
Not every B2B company has cut spending, according to researchers. About half will cut spending up to 25% in the short-term however more than a quarter will increase spending by 25%.
Technology
B2B companies think digital interactions – from sales to service to support – digital engagements will be twice as important than prior to the pandemic.
Location
Most customers will not be in their offices. As many as 90% of B2B sales have become virtual through online meetings, phone calls or IM. The best part: Many customers and their sales and service professionals think the virtual experience is just as good as – if not better than – the in-person experience!
New technologies impacting Customer Experience
The evolution of new technologies like Internet of Things (IoT), AI, ML and Augmented Reality (AR)/ Virtual Reality (VR) have created a paradigm shift for businesses. These technologies have provided a competitive advantage to businesses by providing faster decision-making capability, improved operational efficiency, automated business processes and personalized engaging customer experiences. IoT has provided a silver bullet solution for providing connected experiences with brands across electronic devices. Machine learning is helping businesses to precisely evaluate customer behavior and predict demand. AR and VR are allowing businesses to provide superb virtual experiences to their customers.