The New SAP SuccessFactors - Get Ready for Big Changes
I recently had the pleasure of attending SAP annual SuccessFactors User Conference, SuccessConnect 2019, in Las Vegas. There was one clear message from SAP, and that is, they are once again, leading the industry in a paradigm change in HCM Technology.
As Greg Tomb, President of SAP SuccessFactors, led of the Keynote, he recounted a recent important announcement. In 1972, a group of CEOs from the largest global corporations at that time, initiated a non-profit organization to promote corporate public policy called the Business Roundtable. At that time, Nobel Economist, Milton Freidman defined the "social responsibility" of a corporation as to "engage in activities designed to increase its profits." And beyond that to make money for their shareholders.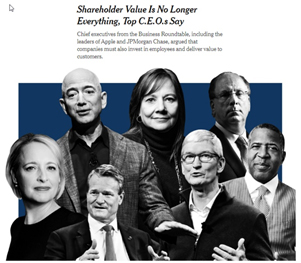 Just this year, on August 19, 2019, after decades of the former policy, the Business Roundtable has revised its view of the purpose of a corporation to promote "An economy that serves all Americans." Their new statement was signed by 181 CEOs of the largest American companies to "commit to lead their companies for the benefit of shareholders – customers, employees, suppliers, communities and shareholders." Effectively, they have expanded the term of shareholders to not only direct financial investors, but all stakeholders who also have a vested interest in the success of the company, including employees.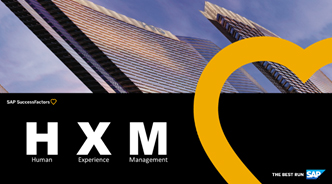 To set the stage, SAP announced the retirement of the term Human Capital Management. They believe, as do I,that employees are no longer just "assets." They are much more like if not equal to customers. They are shareholders. And like shareholders, employers need to LISTEN and respond to what employees are saying and doing and what they want. The employee experience is paramount to understanding this.I discussed this exact issue in my recent article on HR Digital Transformation.
Appropriately, SAP is retiring the term HCM in favor of HXM, Human Experience Management. And with that, a new C-Level title is probably born, CXMO.
So how will this new paradigm reveal itself? Truthfully, most of the underlying HR and Talent functions will not change drastically. But what will change drastically will be how they are delivered and affected. For some time, the technology has been moving more and more toward self-service functions. But SAP's new solution is going to take an exponential leap forward. The single best word I can use to describe this is "personalization." In my recently published series on HR Digital Transformation – A Business State of Mind, I also addressed this topic.
SAP is in a 12 to 36-month journey to completely reimage the User Interface (UI) for SuccessFactors. They are doing this in several ways.
Placing more power to personalize the interface in hands of the end-user.

Adding Machine Learning and AI to the product toolset to allow the solution to drive user engagement (Alerts, Nudges, Chatbots, and more).

Adding more ways to interact with the application than typing (voice-activated conversational input and intelligent search, direct and embedded linking, advanced people analytics and more).

Further extending the product functionality through the Extension Center and advanced RPA.
For example, much like your new TV Remotes, you can navigate directly to a page with a voice search request, select the results and go directly to the desired page without navigating through a series of screens and menus. This is a very natural way to engage with a person much less a computer.
From a social perspective, the system will have the ability to monitor your wellbeing. When it has been too long since your last vacation, the system will remind you that it's time.
You will have favorites to create efficiency and, the system will automatically engage with you on both inside and outside-of-work interests.
There will be much more automation in intelligent processes across functional areas of SAP applications and non-SAP applications.
In my recent article, I wrote about the importance of Data in the new technology, but not just about operational and historical trend data. SAP's recent acquisition of Qualtrics will be incorporated into every nook and cranny of the SuccessFactors, allowing for the capture of individual employee experience. This will help to close the often-documented "perception gap" between leadership and employees, which will allow the new Corporate purpose to actualize more effectively.
I believe this new way of Digital Thinking coming from SAP will be a game-changer for the industry and corporate health, productivity, and efficiency. We already see the impacts of addressing the perception gap resulting in higher retention rates, improved corporate communication, and more job satisfaction.
Happier Employee/Shareholder = healthier company and improved ROI.
Kudos to SAP for once again driving the digital conversation. This time around HXM!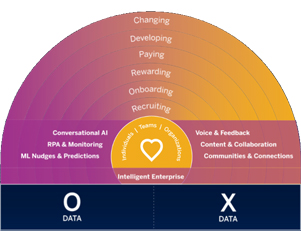 About Author
Steve Bradley is VP and Director for the Cloud HCM Practice at Birlasoft. He has over 20 years of HCM technology experience – and founder of two HR service companies, SystemLink and Learn2Perform. He is a frequent speaker at conference events and advisor to organizations of all sizes on the topic of HR Digital Transformation, HCM Technology and HR Organizational Change in a technology age.