IoT-viable devices, Big Data and analytics, robots, and augmented reality – Industry 4.0 technologies are transforming modern-day warehouse operations. In this article, we explore challenges, opportunities, and proven use cases of smart warehousing technologies.
In this mobile-driven, on-demand age of millennial and gen Z consumerism, customers expect exceptional turnaround time on their product deliveries and an immersive buying experience – from shopping for the product to finally receiving it. While the front-end has drastically evolved with the advent of mobile applications and leading-edge experience design, the warehouses still need to reinvent themselves. The proliferation of Industry 4.0 technologies – artificial intelligence, internet of things (IoT), Big Data and analytics, augmented reality, digital twins, and autonomous robots – are helping drive that transformation towards smart warehousing.
An smart warehouse consists of automated workflows, robust analytics, and IoT-enabled devices that work together to streamline inbound logistics, storage, and outbound logistics. By embedding smart technologies across the warehousing value chain, companies can make their supply chains more nimble, responsive, cost-effective, and efficient.
Some reports suggest that the global smart warehouse market will generate 19 billion USD in revenue by 2025.
Are we on the right track?
In the next decade, we will witness a complete overhaul of warehousing operations with labor-intensive activities such as order picking augmented with the use of next-generation technologies. The focus would be on improving accuracy and visibility into inventory management, reducing manual effort, minimizing total cost of ownership (TCO), and boosting operational efficiency.
What are the challenges?
Organizations may face significant challenges in driving rapid digital transformation to implement smart warehousing technologies. Those roadblocks include but are not limited to, enterprise integration, legacy IT, and security concerns.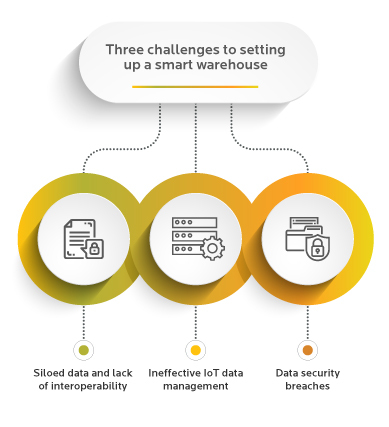 Firstly, the warehousing value chain interacts with multiple enterprise systems – warehouse management system, transport management system, warehouse control systems, building automation system, and more. Each of those systems must integrate tightly with each other to reap the real benefits of Big Data insights. Siloed data and lack of interoperability will ultimately result in limited insights. Next, on the IT infrastructure front, there are concerns regarding the massive volumes of data that will be generated by IoT devices installed across the warehouse and on packages, containers, and pallets. Companies would have to manage that data effectively, and its storage will significantly add to the IT infrastructure costs. Small and medium third-party logistics (3PL) providers would hesitate to make such a financial commitment. Lastly, there are security concerns that arise due to the possibility of a data breach as the exchange of sensitive barcode data is essential for the deployment of warehousing analytics solutions. The cost of an average data breach could be as high as 3.86 million USD, which may be a frightening proposition for many organizations.
Stay Ahead
Visit our manufacturing webpage
Real world examples
Amazon employs an army of more than 100,000 wheeled, squat robots called "drives" across its 150 facilities in North America. These flat-topped robots use floor-mounted QR codes to guide them and carry shelves of merchandise to workers filling orders. That is an excellent example of how robots with embedded sensors are helping improve productivity, resulting in better turnaround times concerning order fulfillment.
On the other hand, warehouse operations can be optimized more quickly and simply with barcode scanners, smartphones and tablets, and smart glasses integrated with existing infrastructure. Readily available, proven technologies such as augmented reality (AR) can increase picking productivity by close to 25 percent and reduce picking errors by up to six times, ensuring the merchandise reaches the customers at a much faster pace.
Another success story comes from Singapore, where DHL Supply Chain has implemented a smart warehouse for TetraPak, the world's leading food processing, and packaging solutions company. The facility uses digital twin technology, IoT, and advanced analytics to achieve agile, cost-efficient, and highly scalable warehouse operations. The digital twin of the warehouse – a virtual representation that mimics the physical state and behavior of warehouse assets – is continuously monitored to check asset health and ensure there is no unprecedented downtime. In case an issue is spotted based on insights from real-time operational data, supervisors can take immediate corrective action. That smart warehouse enables shelving of received goods within 30 minutes and getting delivery-bound goods ready for shipment within 95 minutes.
Fleet management is another area of interest where intelligent technologies are making a tremendous impact. UPS, an American multinational package delivery and supply chain management company, developed ORION (On-Road Integrated Optimization and Navigation). ORION is a sophisticated, AI-driven algorithm, and it helps UPS drivers optimize their delivery routes based on traffic conditions and other factors. According to the UPS' estimates, the reduction of just one mile per driver per day can save them up to USD 50 million annually.
Conclusion
Organizations must create a framework to measure the success of warehouse digitization programs with robust KPIs. Organizations should closely monitor improvement in critical metrics to build a prudent roadmap for digital transformation. Some examples of these metrics include inventory turnover to receiving efficiency, cost per item put-away to inventory accuracy, order cycle times, cost of picking labor to the number of orders picked per hour. Next-generation manufacturers will need to cater to a tech-equipped, digitally-savvy consumer and, at the same time, face intense competition, requiring that they build leaner supply chains that can become the cornerstone of their competitive edge. Smart warehouses will be one of the ways they make themselves future-ready to deliver superior experiences to their end customers, suppliers and workforce.
At Birlasoft, we develop industry 4.0 solutions to help our clients build smart warehouses. For any requests related to your business problems, product demos, and exploratory workshops, fill out the form below, and we'll get back to you soonest.