A Customer Experience Center showcasing solutions by KPIT on PTC's ThingWorx Industrial Innovation Platform
Raleigh, North Carolina, USA | July 30, 2018: KPIT Technologies (BSE: 532400; NSE: KPIT) has launched the first Center of Excellence (CoE) showcasing PTC technology in the US, at KPIT's Raleigh, North Carolina location. The launch event, themed "Elevate to the Connected World with Smart Manufacturing and Connected Products," demonstrated how to build great customer experiences on the ThingWorx® Industrial Innovation Platform using KPIT accelerators.
The hands-on demos focused on Journeys to Excellence in manufacturing across the value chain of Model - Make - Move - Manage.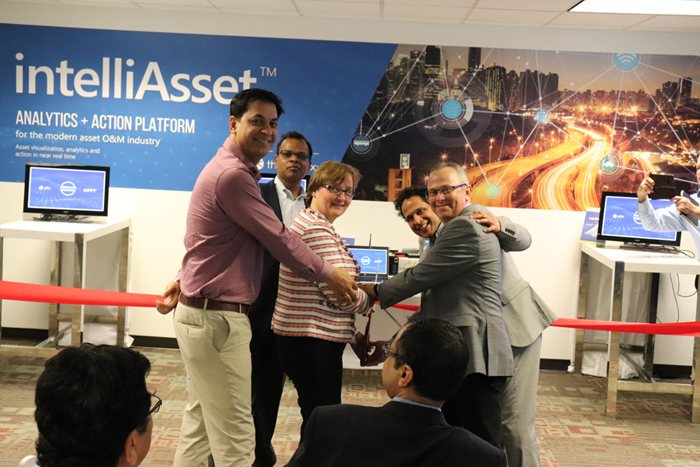 Ravi Asrani
, VP, Global System Integrators & Management Consultant, PTC (left)
Catherine Kniker
, Chief Revenue Officer, ThingWorx and Vuforia (centre),
Mike DiTullio
, EVP, Marketing and Sales, PTC (right) inaugurate the KPIT PTC Center of Excellence in Raleigh, North Carolina with
Probodh Chiplunkar
and
Rajeev Kulkarni
from KPIT.
Industrie 4.0 technologies used included connected devices, integrated sensors, the ThingWorx platform and augmented & virtual reality. Customers participating in the CoE launch experienced how KPIT has enabled faster time to market by creating a closed loop manufacturing cycle between engineering, product manufacturing, supply chain and service using ThingWorx.

Excited about the launch of the first KPIT CoE in the US, Probodh Chiplunkar, Head of Digital Business at KPIT said, "It is the first of its kind in the US, and the second CoE that PTC and KPIT have collaborated on globally. Companies today want to create digital experiences for their users that are fast to build, yet scalable for the enterprise. Enabled by our accelerators built on PTC technologies, companies can quickly integrate IT and Operations Technologies for a connected manufacturing experience and better business outcomes, like a safer workplace, improvement in manufacturing OTD and unparalleled customer service."
Digital technologies
such as Industrial IoT, Cloud and Augmented Reality integrated with existing technologies in the manufacturing value chain have the power to change how companies deliver seamless experiences for customers and employees. KPIT demonstrations included:
IntelliAsset
- Platform for asset visualization, analytics and action in near real time
KwikPick
Hands-free Warehouse Picking solution with Wearable Glasses
EWI -
AR-based electronic work instructions solution
Global Product Registration -
Seamlessly track and manage regulatory registrations and compliance from PTC's Windchill®
PLM
solution
iLinkTM - Enabling seamless integration between business systems like PLM, ERP, EAM and others
Other demos included solutions around remote collaboration, line clearance, Vuforia® AR-based design reviews, and custom Navigate® role-based apps.
"
KPIT is building solutions that provide value for discrete and process manufacturing industries," said
Mike DiTullio
,
Executive Vice President
,
Marketing and Sales, PTC. "With an engaging user experience, KPIT's accelerators integrate diverse systems using PTC's ThingWorx, Navigate and Vuforia products. KPIT has shown true collaboration with the launch of this second CoE worldwide."
Catherine Kniker
,
Chief Revenue Officer
, ThingWorx and Vuforia, said, "
This customer experience center at KPIT's location in Raleigh offers one of the best ways for customers to try out PTC technology. Being co-located with the talent KPIT has put together in manufacturing, engineering and digital technology, the CoE showcases digital innovation while producing assets that can be easily replicated by customers.
"