Pune, India & Coventry, UK, July 2, 2018
: KPIT Technologies (BSE: 532400; NSE: KPIT), a global technology company specializing in product engineering and IT consulting announced that its Master's degree programs in Automotive Electronics and Strategic Engineering Management for employees, in collaboration with Coventry University, was honoured with the prestigious award under the category of
"Outstanding Course Team"
at the Annual Coventry University Excellence Awards. It won the recognition for its unique and trend-setting approach.
The industry-academia collaboration is strategic for both the entities as there is significant overlap in the areas of research and development. As the Automotive industry is going through major changes such as autonomous driving, electrification, cybersecurity, electric vehicle, etc., technology firms need to skill and upgrade their workforce with new-generation engineering capabilities that serve the changing customer landscape.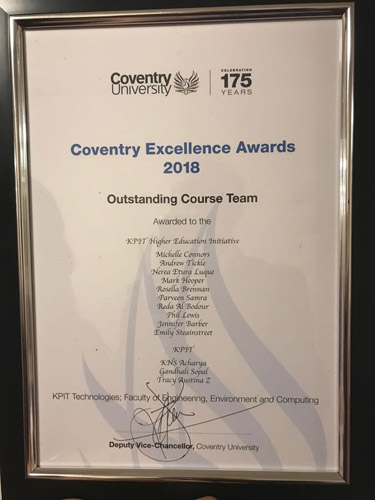 Coventry University staff, and KPIT were acknowledged with the
"Outstanding Course Team"
award for their meticulous and collaborative teamwork on the Higher Education Initiative (HEI)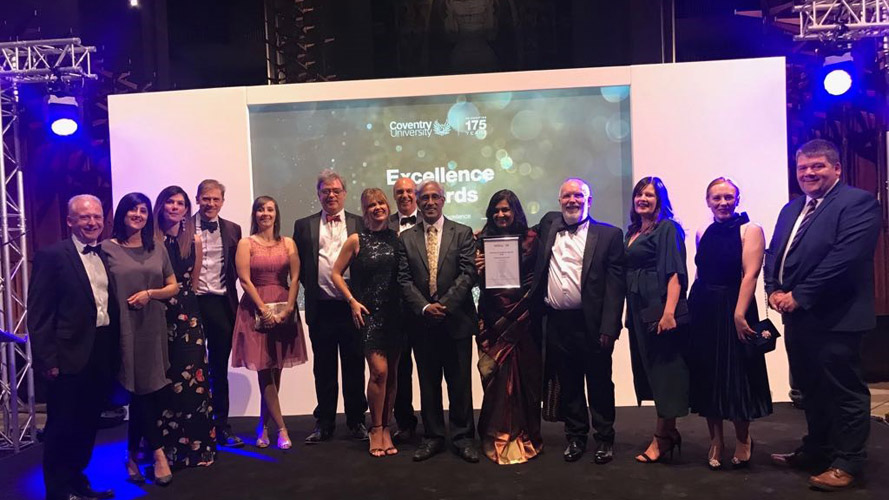 The staff of Coventry University, and representatives from KPIT assemble on the stage for a photo-op at the Coventry Excellence Awards Gala in June 2018
To navigate the transition and promote employee competence development, KPIT and Coventry University collaborated to introduced two specialized programs - M. Tech in Automotive Electronics and MBA in Strategic Engineering Management- exclusively for KPIT employees in Bangalore and Pune. The two-year programs comprise eight courses and a project, co-created, co-designed, and co-delivered by the faculty members of Coventry University and subject matter experts from KPIT. The courses are practical and application-oriented, flexible, and contemporary while also meeting the highest levels of QAA (Quality Assurance Agency) standards.
While the courses are available at the KPIT campus, there is no deviation in the process, rules, etc., that Coventry University follows for the programs conducted at its institutes.
Prof. KNS Acharya
,
Vice President - Global Head of Education & Competency Development
, Talent Acquisition Group at KPIT, said,
"This award is a testimony to KPIT's commitment to cultivating an environment that enhances learning and development of its employees. The collaboration with Coventry University is enabling our employees in gaining more knowledge about their areas of interest, industry trends, and technology disruptions while also getting an understanding of the business operations in the fast-evolving automotive space. We are honored to receive this award and extend our gratitude to the university and the leadership council, employees, and the learning and development teams of KPIT. It has created a unified platform for academicians and industry leaders for spreading knowledge."
The Coventry University Excellence Awards recognizes teams who demonstrate exceptional practice and commitment to the University Group. The university received applicants from all its specialization centers including the schools of law, business, healthcare, engineering, architecture, etc. This year's awards were also part of Coventry University's 175th anniversary celebrations.
About KPIT Technologies Ltd.
KPIT (BSE: 532400, NSE: KPIT) is a global technology company specializing in providing IT Consulting and Product Engineering solutions and services to Automotive, Manufacturing, Energy & Utilities and Life Sciences companies. Together with its customers and partners, it creates and delivers technologies to enable creating a cleaner, greener and more intelligent world that is sustainable and efficient.