Birlasoft has been conferred with the "CXO Cloud Leadership Award" under the category "Digital Transformation using Cloud" at CXO Cloud Summit and Award 2022, held on June 10, 2022, in Mumbai.
The award was bestowed for delivering excellence and innovation in the use of cloud technology for digital transformation and customer delight. The award was presented to Kishore Kumar Ranjan, Head Tech and Ops, Birlasoft by Sandeep Bhambure, Managing Director, Veeam Software India & SAARC.
The award recognizes Birlasoft's exceptional leadership, digital innovations, and initiatives in operational processes, strategies, and techniques. The participation was evaluated basis how we are leveraging the cloud for objectives beyond business continuity and cost to now using the cloud as a platform for innovation.
Cloud Leadership Award felicitates winners who stand out as true innovators and leaders amongst their peers and clearly illustrate how organizations are taking advantage of technology to redefine how their businesses operate and succeed.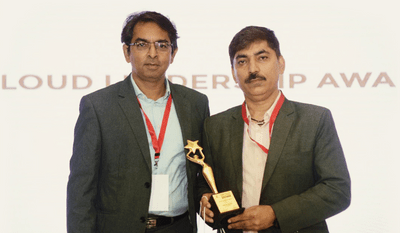 (L-R) Sandeep Bhambure, MD, Veeam Software India & SAARC and Kishore Kumar Ranjan, Head Tech & Ops, Birlasoft