Within warehouses, order-picking accounts for an estimated 55 percent of the total warehouse operating expenses. Underperformance in this task negatively affects the cost and performance of a warehouse. But now, with smart glasses, companies can convert this task into a completely hands-free operation. Workers get a real-time line of sight feed, visual guidance for location of items on their smart glasses, voice commands give them process input, there is no reliance on handheld scanners.
This evolution in operations will not just reduce, but can even eliminate excess time taken. It optimises process productivity, minimises errors and operating expenses.
This is not 'Technology for the Future' unveiled at a technology expo, but a reality. In fact, for the past few years, smart glasses have become an integral part of manufacturing and shop floors, and this is just the beginning. According to a Forrester Research report, over 14 million US workers will use smart glasses by 2025.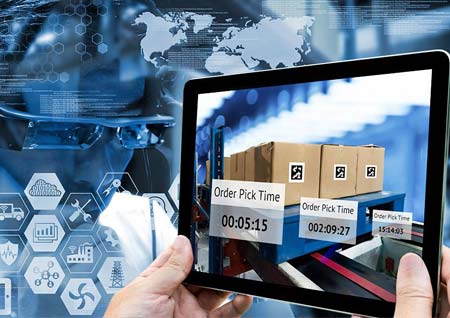 Smart operations and field service
Smart glasses are used across all sectors as a valuable addition to the manufacturing and supply-chain operations for several reasons.
Real-time data
Smart glasses enable workers to connect and communicate with experts from across the globe. The first-person view of the situation is streamed, which allows workers to obtain real-time guidance through "see what I see" live-video collaboration. As a result, problems are fixed properly in the first attempt, resolutions are quick and efficient, thereby resulting in reduction of standard repair time.
Better resource use
With a vast, connected workforce, the automated systems can redirect or alert workers to prevent delays and meet production levels. The use of data collection software enables managers to track productivity statistics to maximise output, improve quality, and reduce errors.
Instant access to production data
Smart glasses connect with a manufacturer's database and provide the workforce with real-time data, charts, graphicsa and other information that is essential for production. This allows the workforce to improvise.
Easy digital inspections
Workers wearing smart glasses can digitally inspect the product for defects. Next, they connect to the records, refer to repair guides and videos, capture before and after images, and mark progress for quality audits.
Precautionary measures: Smart glasses enhance a manufacturer's safety culture by recording procedures and performing job-hazard analyses. This gives workers information regarding the necessary safety gear and steps to be taken. The margin of error is reduced because all the data is available virtually and in real time.
Comprehensive field knowledge capture: As experienced workers retire, there are never enough skilled applicants, and businesses need to upskill both their new and existing employees to ensure knowledge retention. Smart glasses offer simple solutions with their knowledge-capture capabilities.
Experienced employees wear smart glasses while performing tasks, capturing the details of the process in visual and audio format. New employees can access these recordings instead of reading pages of manuals to ensure faster learning. This also ensures that the experienced senior staff does not have to take time off from their tasks to help less-experienced operators.
Changing reality
Manufacturing companies are now working towards a digitally driven manufacturing environment, where machines, cloud, and workers exchange information in real time, enhance functions, and transform the manufacturing ecosystem. An example is the Centre for Product Design and Manufacturing of the Indian Institute of Science, Bengaluru. Established with seed funding from the Boeing Company, it is India's first factory that functions autonomously and productively. Sensor-fitted machines and digitally connected wearables constantly collate and monitor data. The resulting real-time insights capture every movement and process. The collated data is then continuously entered into a responsive, 'talking' network-enabled framework.
While human workers are concerned about being replaced by machines, smart glasses combine the best of both-the machine delivers the necessary information when required, while the worker does his or her job without interruptions. In the long run, augmented reality (AR) will close the skill gap. As workers perform high-skill jobs, industrial productivity grows, resulting in better wages.
The Global Virtual and Augmented Reality market is expected to grow at a compound annual growth rate (CAGR) of approximately 73.2% over the next decade and will be worth around $200 billion by 2025. The current wave of AR trends includes the requirement of industry-specific solutions and increased demand for AR-driven platforms and solutions driven with smart glasses with head-up displays, voice driven workflows integrated with enterprise ecosystems. As companies become more digitally empowered, we will see a workforce that learns faster, responds quicker, produces high-quality products, and contributes to their organization's overall success.