Estimated reading time: 5 min
How can CPQ platforms fuel manufacturing sales growth?
Synopsis: As trends like mass customization and additive manufacturing open up new ways to earn revenue, enterprises should be able to price their offerings dynamically. Even a 1% increase in average selling price translates into a 13% uptick in net profits. A next-gen Configure Price Quote (CPQ) platform unlock these possibilities, while also speeding up the sales process for superior CX.
The manufacturing sector is evolving at a lightning pace, and enterprises are grappling to keep up. On the one hand, widespread automation and the introduction of smart technologies due to the advent of Industry 4.0 is pushing production speeds like never before. On the other hand, the new age manufacturing customer is eager to experience a high degree of customization and superior CX. Therefore, mass customization is among the top trends faced by manufacturers today.
In this dynamic environment, complex sales and order fulfillment cycles can slow down delivery. Traditionally, manufacturing sales followed a one-size-fits-all model, wherein a large group of customers comes under the ambit of a single pricing framework. This one-size-fits-all approach no longer works – as mass customization tailors each order as per customer requirements, a manufacturer's pricing capability must nimbly adapt. PwC found that even a 1% increase in average selling price can unlock a staggering 13% increase in net profit. By deploying dynamic pricing solutions, manufacturers can capitalize on these opportunities.
Smarter sales can also go a long way in improving the buyer experience for manufacturing customers. Consider how a typical sales rep would process an order. First, they peruse the product catalog to identify the right product variant and customize product details to meet the order's unique specifications. The sales rep shares the details with the engineering team and other stakeholders to update the price point, according to the level of customization needed. Next, the teams finalize the product details, and the price is verified internally, before getting approval from the sales manager.
Once every stakeholder has signed off, the quote is finally approved, and the customer receives the quotation document. The customer can either accept or reject the quote – if the customers agree with the quote, they share a purchase order, which is then converted into an order for the ERP system. And if they choose to reject the quote, the entire process starts all over again.
Stay Ahead
Visit our manufacturing webpage
In legacy-era manufacturing systems – ones without a digitalized dynamic pricing solution – this entire process would happen manually or rely on old spreadsheets. In the Industry 4.0 era, an intelligent Configure Price Quote (CPQ) platform does it.
CPQ platforms connect the customer-facing side of the manufacturing business with the operational aspect by acting as a bridge between the CRM and the ERP. While basic automation or order configuring, pricing and quote processes have been around for a while; the technology is now gaining from advanced data analytics and machine learning.
WATCH NOW: Case study | OC Tanner rolls out S/4 HANA and Hybris CPQ to digitalize B2B2C process and drive superior CX
Data analytics lets CPQ platforms understand the minute details of an order, arriving at a price point that's most suitable to both the seller and the buyer. Machine learning enables the platform to predict the best quote based on previous data patterns automatically. This approach has two benefits: first, it helps to realize hidden opportunities for profitability, pushing up the margins for every sale. Second, it ensures minimal negotiation between the sales rep and the customer – this leads to a superior experience and faster order fulfillment.
So, next-gen CPQ is nice to have, but is it truly a must-have for manufacturers? The answer is an emphatic YES. Sales reps spend 10-15% of their time on processing orders – this means valuable effort spent on repetitive tasks like proposal generation, order re-configuration, price change reconciliation, managing the proposal workflow, etc. Imagine if all of this could be intelligently automated, leaving sales reps free to build new customer relationships and strengthen existing ones. A well-defined CPQ process helps bring this concept to reality.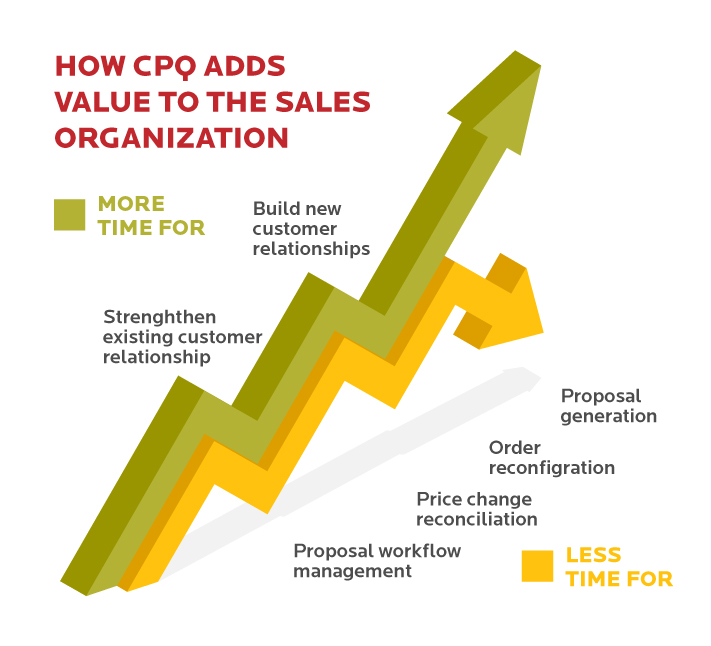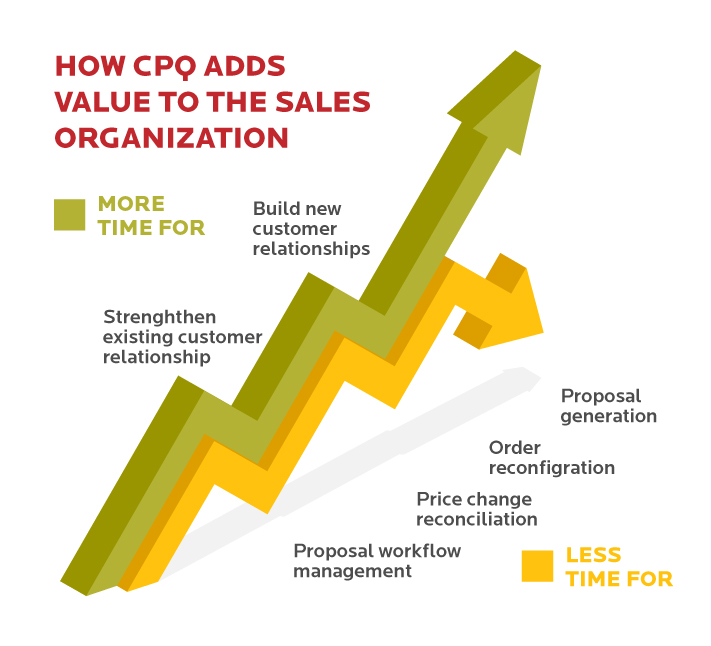 Also, Industry 4.0 trends like mass customization and additive manufacturing are pushing dynamic pricing capabilities to the forefront. Very soon, every order will be uniquely prepared, and manufacturers cannot devote time/manual effort to regularly reconciling these variances.
Further, there's the question of compliance. Regulations such as the AAC 606 and IFRS 15 govern the revenue generation from contracts with customers. Next-gen CPQ can help manufacturers keep up with regulatory updates, avoiding heavy non-compliance penalties.
There are several reasons why manufacturers around the world are eager to make CPQ part of their technology stack. Flowserve, a US-based industrial machinery manufacturer, leveraged CPQ to ensure on-time delivery of quotes. Flowserve is an industry giant, with manufacturing plants across the globe, 17000+ employees, and publicly traded on the NYSE. Given the scale of its operations, the efficiency gains from CPQ made a big difference to its bottom line. Using a cloud-based CPQ, it went from 87% on-time delivery of quotes to 95% – allowing Flowserve to generate over 70,000 quotes in a single year.
READ MORE: Case study | Al Mazroui simplifies the business process while attaining Future-proof integration with Oracle CPQ Cloud
Given this clear potential, technology companies are fast expanding their CPQ offerings, eager to help manufacturers on their Industry 4.0 journey. Oracle has acquired a CPQ company Big Machines Salesforce acquired MuleSoft, and SAP acquired Callidus for this explicit purpose. These moves signify the coming together of CRM and CPQ, opening up new possibilities for manufacturers. In the future, these digitally augmented CPQ platforms will help to stand out in a competitive, yet promising market landscape, rich with opportunities for enterprises equipped to unlock them.
At Birlasoft, we specialize in CPQ platforms advisory and implementation to help our clients grow faster. For any requests related to your business problems, product demos, and exploratory workshops, fill out the form below, and we'll get back to you soonest.