By: Anupman Sharma | Head, Digital Solutions
I am not talking about the actual Pokemon game but the game IT professionals are playing today in catching up with the customer expectations. We all know that this game is addictive and far trickier.
Life has not been simple for marketing or IT and looks like it will never be. You may be feeling that our clients are becoming increasingly sensitive about the looks of the application. Possibly, because their customers have changed and digital transformation around them has picked up at a crazy speed.
Digital is an extremely convoluted area since it's not a single product or a single solution. It has a different meaning to different people and you may be surprised a section still feels that digital transformation is much in Vogue (or just a buzz word). Well to demystify this there is a Digital Service Line in Birlasoft, and here I will try to focus on one key element of Digital – THE CUSTOMER EXPERIENCE (CX) – Our Pokemon. Though digital has permeated the operations and backend processes as well but CX is the area that touches your end consumer and hence my focus for this Blog.
Unlike in the past, I have started liking my customers who are very particular about their UI – User Interface, everything has to be PIXEL perfect, and this is a pretty standard ask. But is it all about UI, perhaps not. It's the overall experience of using the application (or app), which makes it complicated.
Engaging UI
Usability
Intuitive
Simple
Attractive
Interactive
Conversational
Immersive
Enjoyable
Consistent
Yet unique
Mobile device friendly
The list could be finite but it keeps on growing. "Your UX offering should be usable", that's how one of the Birlasoftian puts it. I am sure you get all the intended pun!
Why it is so important?
"By 2017, 89% of respondents expect customer experience to be the primary basis for competitive differentiation and there's lots of room for improvement." – Gartner
Let me try to decode key components of digital CX with certain scenarios: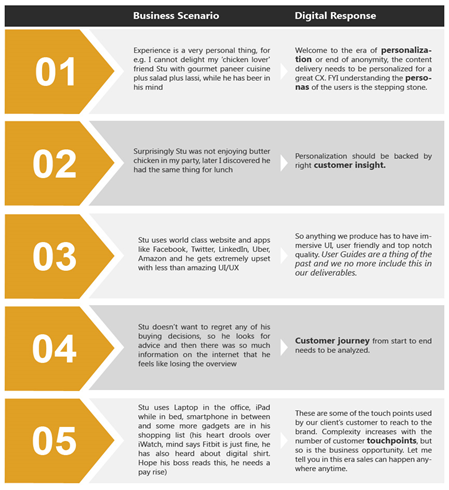 This is too much, how to achieve it smartly –
1. Get the UI/UX Right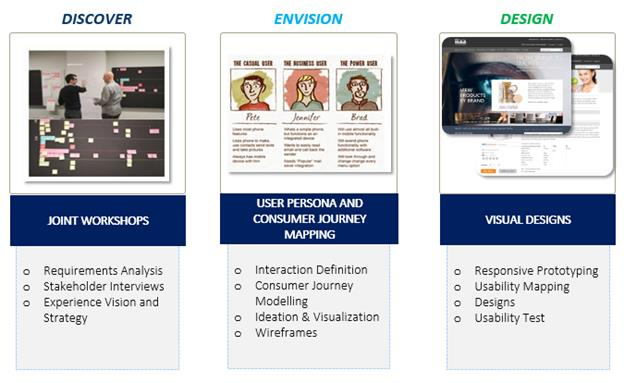 2. Choosing the right platform
Major Web Content Management tools are changing their positioning as "Experience Platform", for e.g.
Sitecore is now known as Sitecore Experience platform,
Adobe CMS now known as Adobe Experience Manager,
Drupal (acquired by Acquia) is positioned under Experience assembly.
Liferay packaged its offering as Digital Experience Platform.
There are platforms that support you in the journey, some are licensed, some are free but it needs to be chosen with proper advisory (taking full view consideration of business fitment, TCO, future expandability etc.) and for that, you are welcome at Birlasoft TruDigital den.
Conclusion
CX has wider applicability, be it in a B2C, B2B or internal application (or app). To summarize CX
Increases engagement with end-users, improving loyalty and brand strength = more $$$
Increases adoption of self-service solutions = Cost savings
Enhances productivity and engagement through employee connectivity
So now when you are designing your web application, think of mobile first and not the other way.
Lastly, for awesome CX you often have to go beyond the brief (I mean the scope). Let me know what you think, shall we catch our Pokemon…