By: Amit Jain
Disruption is happening everywhere so it's like disruption disrupting every aspect of work and life. What and where is it? New technologies which potentially create new markets or change the marketplace in ways that shift how we think and behave? And ultimately displace established business and industry processes?
The figure below highlights the Disruptive technologies that are 'Disrupting' the insurance marketplace.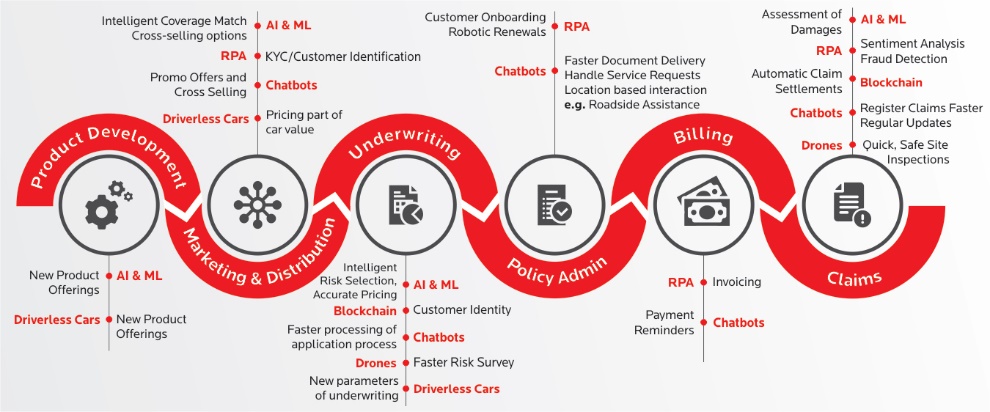 AI: Coverage selection based on individual needs is widely facilitating the sales & marketing and underwriting functions. Artificial Intelligence could ease the process of buying insurance e.g. via a digital advisor – tweeted by Swiss Re CEO Christian Mumenthaler.
AI is being used to automatically process images, assess various types of damages, and calculate the extent of damage, greatly improving the insurance customer experience. Effective Chatbot can process concerns that are either typed or spoken by customers and provide personalized service. Chatbots can be used to answer basic questions and resolve claims, as well as sell products, address leads, or make sure customers are properly covered by their insurance.
Robotics are automating processes of underwriting (personal as well as commercial lines), claim settlement etc. Some firms are adopting robotics into their claims management process to help predict the eventual outcome of the claims process and suggest the most appropriate strategy based on that prediction (for example, recommending an early settlement on cases where the data suggests a high potential for long-term litigation). Others are exploring how robotics could help identify potential mismatches between the policy terms set internally and those submitted by brokers. This is helping insurers to identify – at policy inception – policies that may lead to subsequent losses.
Usage of drones has impacted Insurance in multiple ways: claim adjusters obtain useful insights during claims processing especially improved catastrophic claims management. Underwriters can do more tailored pricing enabled by precise risk assessments.
Tesla is already showing how the insurance industry will be disrupted by self-driving cars. It has quietly been selling car insurance with its vehicles in Asia as part of its vision to one day include insurance in the final price of its vehicles. The personal auto insurance sector could shrink to 40% of its current size within 25 years as cars become safer thanks to self-driving tech, according to a report by the global accounting firm KPMG.
Blockchain: According to one statistics, Fraud costs organizations worldwide $3.7 trillion a year or 5 percent of the Gross World Product (GWP). In underwriting function, it will help create new business models based on personalized, real-time assessment of risk rather than using historical data and averaged pricing. 15 members B3i consortium recently won Special Leadership award at the ACORD 2017 conference for seeking to improve market efficiency in negotiating and transacting reinsurance contracts using Blockchain technology.
Reference:
https://assets.kpmg.com/content/dam/kpmg/pdf/2016/06/id-market-place-of-change-automobile-insurance-in-the-era-of-autonomous-vehicles.pdf