By: Nitin Arora, Automation
Digitization of back-office function is most talked about topic these days. Almost every business has enabling functions i.e. finance, human resources, and IT. Leaving behind few exceptions these enabling function runs in similar fashion. For instance, Loan application processing, insurance claim processing are some of the most rule driven tasks within financial services. As per the research done by industry analysts Automation of shared services operation can bring huge benefits in terms of cost savings.
Opportunities
Data integration from multiple channels for providing holistic view results in decision making and business insights
Application Support and Maintenance (ASM) Automation for covering Level 1, Level 2 and Level 3 application support
Predictive analytics for maintaining demand/supply chain and better decision making
Challenges
Redundant and false incidents consumes lot of time and resources.
Nearly 70% of an enterprise's application budget is spent on sustenance and enhancement activities
Opaque Inter-department visibility: Business unit within single parent organization does not know about digitization done in another department
Evolving business process IT Automation gets obsolete due to frequent enhancement in business process
Gap in users need and systems – This gap occurs as, either System/Processes are not able to understand users need or user is not able to take best advantage of system
Expensive Automation Platforms – Development platforms i.e. Automation Anywhere, Blue Prism, UI Path are expensive and are not proficient to cater all the Automation requirements.
Addressing the challenges
Incident remediation's and monitoring activities: Factory based approach for resolution of rule based Incidents & SRs – Most of the L0 and L1 type of ticket and daily monitoring activities can be addressed through auto remediation. Incident remediation and monitoring activities can be leveraged through IT Task automation, IT Service Automation and Business Service Automation.
Heuristic Automation: Problem Management and Performance management falls in Level 2 incidents. Through advanced automation techniques (NLP and Machine Learning) we can find the root cause of the Problem and quick action can be taken.
Issue elimination at source: Through this approach there is high possibility to reduce ticket volume as most of the issue are acknowledged and remediated at source. Automation monitoring tools foresee the futuristic problem (space crunch, password expire, timeout etc.) and predictive analysis. Through this approach issues get mitigated before they get converted into alerts/incident.
Auto Enrichment of KEDB: As per this approach KEDB is provisioned with auto enriching feature. This tool record resolution steps for future reference and present them to user through smart UI.
Integrated Dashboard reporting: This approach provides holistic view of multiple department/systems to the stakeholders along with predictive analysis for better decision making.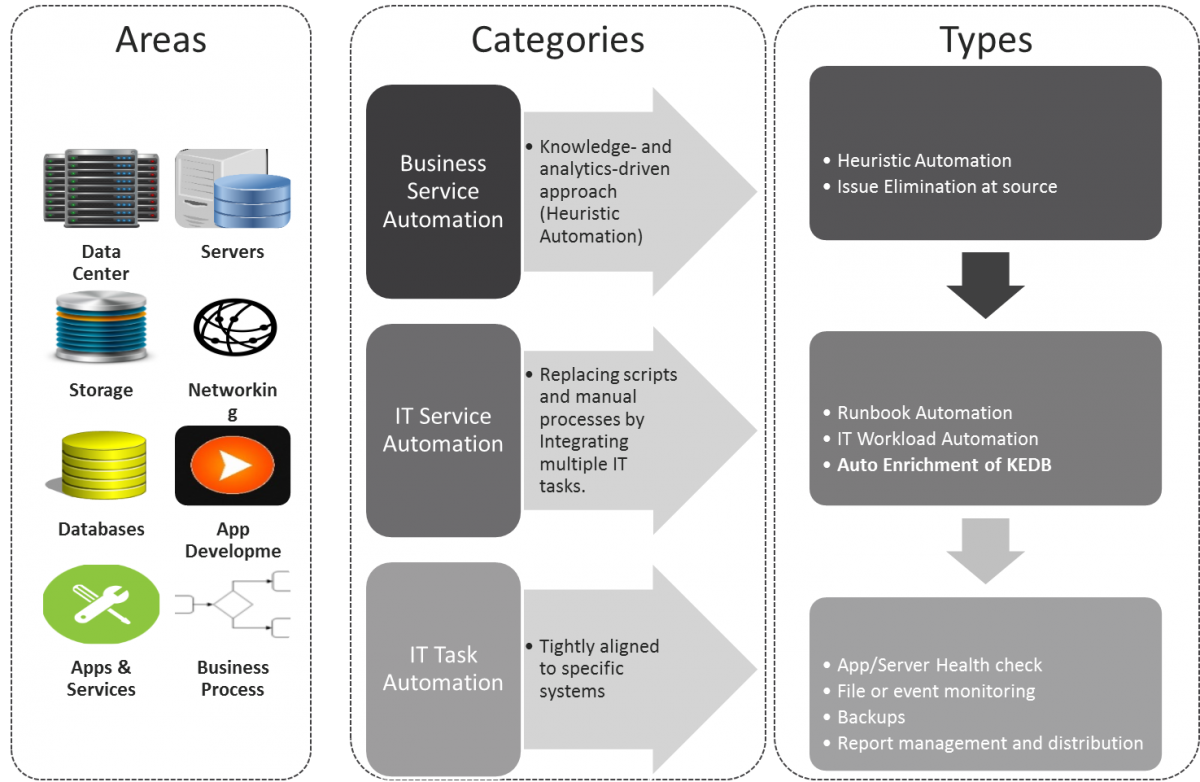 ASM Automation delivers quantifiable, bottom-line results
Free up resources – Resources can be utilized for strategic IT initiatives, instead of spending time on repetitive time-consuming tasks. FTE can be reduced by automating repetitive SOP driven tasks through Auto- Remediation, Self-healing & Self Service.
Improved SLA- can be implemented to expedite the team's activities to restore services which improves operational efficiency.
Multi Department Visibility - Automation streamlines the communications between different departments. It provides easy access to multi-department visibility
Decision Analysis - Identify potential issues before impact(Proactive Analysis) and Improved level of incident documentation activities, including monitoring resolutions times with adequate information for making quality decisions based on the data
Reduction in MTTR - IT Automation Helps Reduce MTTR through various means